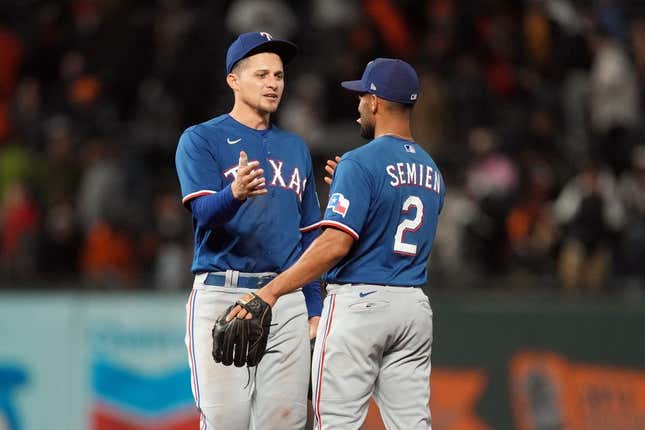 The Texas Rangers will try for their fifth three-game sweep at home since the All-Star break when they host the Los Angeles Angels on Wednesday night in Arlington, Texas.
Is Texas or Florida State a bigger national title contender? | Agree to Disagree
Texas has outscored the Angels 19-3 through the first two games of the series, getting five RBIs from Marcus Semien in a 12-0 win on Monday night and five RBIs from Corey Seager in a 7-3 victory on Tuesday.
"We're just playing good baseball, just trying to win series like we've talked about all year," Seager said. "Pitching the ball really well, we're scoring runs. It's kind of everything you can ask for."
The Angels, meanwhile, have gone 3-11 this month to fall three games under .500 for the first time this season.
Los Angeles did not have an extra-base hit in the series until Texas native Randal Grichuk hit a two-run homer in the ninth inning on Tuesday to make the score 7-3.
"We're taking swings and hitting balls at people," Angels manager Phil Nevin said. "We're just not mounting anything early with less than two outs. When we get base runners on, it's usually late in the inning. One more swing gets you out of it, so we're just not mounting anything together."
The Angels will try to turn things around behind 24-year-old left-hander Reid Detmers, who will pitch on four days of rest for the first time this season and is 0-4 in his past six starts with a 10.30 ERA.
Detmers (2-9, 5.27 ERA) found his rhythm in June, allowing seven runs in a five-start span, but then things went south.
Three times in his past six outings he has surrendered seven runs without lasting more than four innings, including his most recent outing last Friday, when he gave up seven runs and seven hits in 2 1/2 innings of an 11-3 loss to the Houston Astros. He walked three and did not record a strikeout.
"This is hurting him," Nevin said. "It's bothering him. It hurts us, too. A really talented young pitcher that's going to do great things for us for a long time that's in a little bit of a rut right now. You feel for him for that."
Detmers has faced the Rangers twice this season and was much better the second time.
He allowed one run and three hits over six innings in Texas on June 14 but did not receive a decision in a 6-3 loss.
A month earlier, he lasted only four innings and took the loss after giving up three runs and seven hits in four innings of a 10-1 loss in Anaheim.
Overall, he's 1-2 in seven career starts against the Rangers with a 4.75 ERA.
The Rangers plan to start veteran right-hander Jon Gray.
Gray (8-5, 3.65) is coming off one of his best outings of the season, throwing seven shutout innings in a 2-1 win at the San Francisco Giants last Friday. He allowed two hits with seven strikeouts and no walks.
"I've been really searching for this kind of game for a long time," Gray, 31, said. "I'm glad it's here, so I'm really looking to build off of that."
He relied on his slider much more than he usually does against the Giants and found it to be an effective pitch.
"I feel like some starts throughout his tenure here, the slider can get a little arm side, and that's when the hard contact comes," Rangers catcher Mitch Garver said.
Gray is 2-0 in three career starts against the Angels with a 4.19 ERA.
—Field Level Media