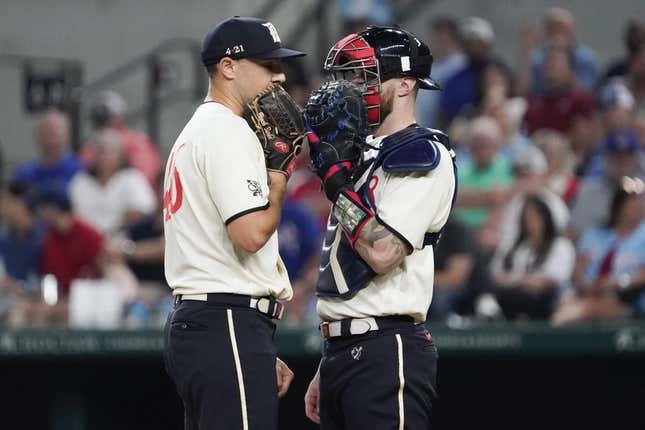 Texas Rangers manager Bruce Bochy knows he can rely on his impressive starting pitchers. It's his bullpen that's keeping him up at night.
How running an NFL team is like running a restaurant | Chef Emeril Lagasse
The Rangers (75-59) will look to bounce back from another bullpen collapse when they continue their three-game series against the Minnesota Twins on Saturday night in Arlington, Texas.
Minnesota (70-65) managed just one hit in six innings against Texas starter Max Scherzer on Friday and trailed 1-0 before rallying for five runs against relievers Brock Burke and Josh Sborz.
"We do have to get (the bullpen) right down the stretch here," Bochy said. "We've just got to make better pitches; it's as simple as that. ... We've got to execute pitches better."
Jordan Luplow, Christian Vazquez and Jorge Polanco homered for Minnesota, which snapped a two-game skid. Joe Ryan tossed six innings of one-run ball for the win.
"Pretty incredible ballgame," Twins manager Rocco Baldelli said. "Some really good pitching ... to find a way to get it done is great. It's just a good ballgame on our side."
Minnesota will send left-hander Dallas Keuchel (1-1, 3.50 ERA) to the mound after the veteran earned a spot in the rotation last week. He turned in a solid relief appearance last Sunday, giving up five hits over five scoreless innings against the Rangers.
Keuchel, 35, took a perfect game into the seventh inning in his previous start against the Pittsburgh Pirates on Aug. 20 and ended up giving up no runs and one hit in 6 1/3 innings. He's provided a veteran presence in the Twins' rotation since joining the club early last month.
"Just enjoying every time I get to step on the mound," Keuchel said. "I don't think I've ever taken it for granted, but at the same time, you kind of get in this robotic mindset where it's so intense and so competitive that it kind of just flies by without [you] enjoying it. So I've made sure to enjoy it a little bit more every time out."
Marcus Semien is 13-for-45 (.289) with a home run against Keuchel, who is 10-10 with a 3.77 ERA in 29 career games (28 starts) vs. Texas.
The Rangers will counter with left-hander Jordan Montgomery (8-10, 3.19), who has a 2.30 ERA in five starts since being acquired from the St. Louis Cardinals at the trade deadline.
Montgomery, 30, allowed three runs over 5 1/3 innings in a no-decision against the Twins last Sunday. He has a 2.41 ERA over his last 16 starts covering 97 innings.
Vazquez is 7-for-24 (.292) with three home runs against Montgomery, who is 0-1 with a 5.73 ERA in four career starts vs. Minnesota.
Bochy provided an update Friday on All-Star third baseman Josh Jung, who has been out since Aug. 7 with a fractured left thumb. Jung has started swinging with one hand but is not expected to return for another two to three weeks.
"We've just got to be careful," Bochy said. "We don't need any setbacks. We've got to still try to be smart about this, hold him back even a little bit so he doesn't overdo it."
Jung remains in contention for American League Rookie of the Year honors. He was hitting .274 with 22 home runs and 67 RBIs at the time of his injury.
—Field Level Media