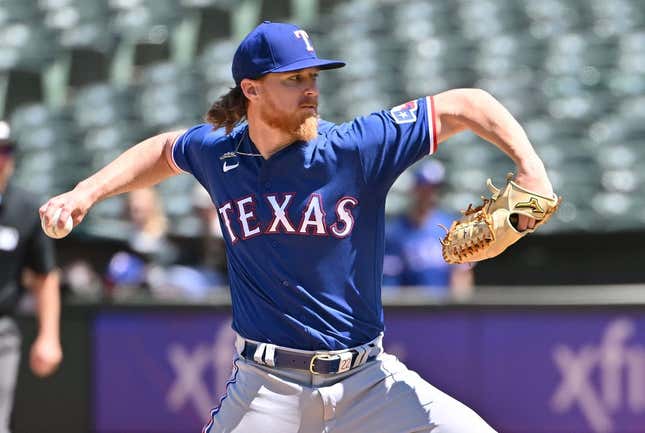 Two former first-round picks by Colorado will square off Saturday afternoon in Arlington, Texas, as the Rockies and Rangers meet for the middle game of a three-game series
Bass' ERA stinks, but not compared to who he is off the mound | Worst of the Week Countdown
Texas starter Jon Gray (3-1, 3.15 ERA) was taken third overall in the 2013 draft by the Rockies. He reached the big leagues in 2015 and spent seven seasons in Colorado. The Rangers signed Gray to a four-year, $56 million deal before the 2022 season
Colorado starter Kyle Freeland (4-4, 3.16 ERA) was drafted eighth overall by the Rockies in 2014, and got to the big leagues in 2017
Gray, Freeland and Pedro Astacio are tied for the seventh-most wins in Rockies history with 53. Freeland, of course, has a chance to separate himself from the group on Saturday
Freeland threw six scoreless innings in his latest start, Sunday against the Philadelphia Phillies. He scattered four hits and one walk while registering a season-high eight strikeouts. It was the sixth quality start thrown by Freeland in nine outings this season.
After Freeland's latest gem, Rockies manager Bud Black offered praise
"He's a veteran pitcher now, and he's under control," Black said, according to MLB.com. "He's clear-thinking. He understands situations. I can go on about what it takes to do the right things during the course of the game to win it."
In three career starts vs. the Rangers, Freeland is 1-0 with a 3.21 ERA. He has pitched at Globe Life Field twice in his career, and he exited a Sept. 1, 2021, start there in the second inning due to a left hip impingement
Gray, meanwhile, is set to face his former team for the first time in his career.
The Rockies are the only one of the 30 major league teams that Gray has yet to face. In addition to his lofty win total, Gray ranks among the Colorado franchise leaders in strikeouts (third, 849), pitching starts (seventh, 151) and innings pitched (eighth, 829 1/3)
Gray has momentum on his side as he threw eight scoreless innings in a road victory over the Oakland A's on May 13. He has made quality starts in three of his past four outings.
The Rangers will back him with one of the top offenses in the game, as evidenced in their 7-2 win over the Rockies on Friday. Texas' Adolis Garcia, Corey Seager and Josh Jung each knocked in two runs, with Garcia continuing his strong season by socking a two-run homer in the fourth inning
Garcia has homered in three straight games and has an American League-leading 14 long balls on the year.
"You're just seeing a good hitter in the zone right now," Rangers manager Bruce Bochy said. "He's so strong. He can hit the ball out of any part of the ballpark. He's hit balls inches off the plate out. He's just a really good player, really good hitter. He's fun to watch.
For the Rockies, the hottest hitter of late has been Elias Diaz. The catcher went 2-for-4 with an RBI double on Friday, extending his hitting streak to seven games. In May, Diaz is batting .364 (16-for-44) with a home run and 11 RBIs in 13 games
Saturday will be the 212th career game managed between Colorado's Bud Black and Texas' Bruce Bochy. Black has a one-game lead in the all-time matchup at 106-105.
Black discussed Bochy before the series opener, saying: "I've always respected and admired Boch as a manager. Probably one of the best, if not the best, game managers I've ever managed against. Tremendous bullpen manager, good instincts late in the game. Just really, really good."
--Field Level Media