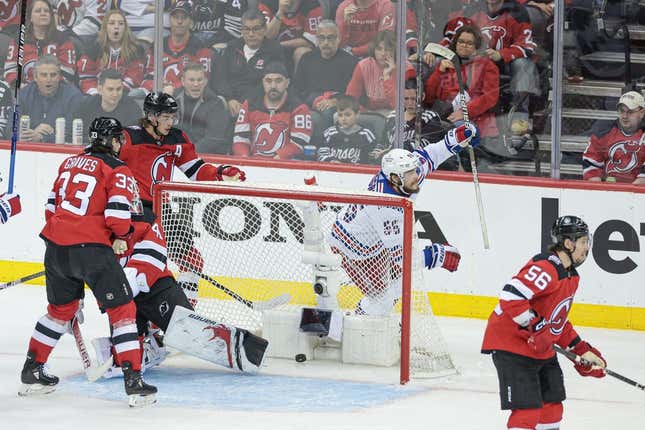 Adam Fox had four assists and Igor Shesterkin made 27 saves as the New York Rangers collected a 5-1 win over the New Jersey Devils in Game 1 of their first-round Stanley Cup playoff series on Tuesday in Newark, N.J
Chris Paul should ride the bench next season | Keep it a Buck(et)
Chris Kreider scored two power-play goals, establishing a pair of Rangers postseason records. Kreider is now New York's all-time playoff leader in both total goals (36) and power-play goals (14)
Filip Chytil had a goal and an assist and Artemi Panarin had two assists for New York. Vladimir Tarasenko and Ryan Lindgren scored the Rangers' other goals
Fox matched his career high for points in a playoff game. The defenseman also had four assists in New York's 5-3 win over the Pittsburgh Penguins in Game 6 of their 2022 first-round series.
Shesterkin stopped 27 of 28 shots for his 11th win in 22 career playoff games. Shesterskin stayed sharp as the Devils increased their pressure throughout the game, as New Jersey outshot the Rangers by a 13-5 margin in the third period
Jack Hughes scored on a penalty shot 17:14 into the third period to spoil Shesterkin's shutout bid.
Special-teams play was the deciding factor, as New Jersey didn't record a shot in four power-play chances. New York was 2-for-3 with the extra attacker, with Kreider twice tipping in longer-range attempts from Fox.
The Devils finished tied for third in the NHL in scoring during the regular season, but their high-octane attack had trouble executing on Tuesday. Shesterkin had a big role in neutralizing the Devils, but the Rangers also blocked 23 Devils shots
It was a tough start to the playoffs for a Devils team short on postseason experience. Six players in New Jersey's lineup were making their postseason debut, while five others had played in five or fewer career playoff games
Perhaps capitalizing on the Devils' relative lack of postseason exposure, the Rangers jumped out to a 2-0 lead within the first 10 minutes on goals from Tarasenko and Kreider
Vitek Vanecek stopped 18 of 22 shots for the Devils
Game 2 is on Thursday in Newark.
--Field Level Media