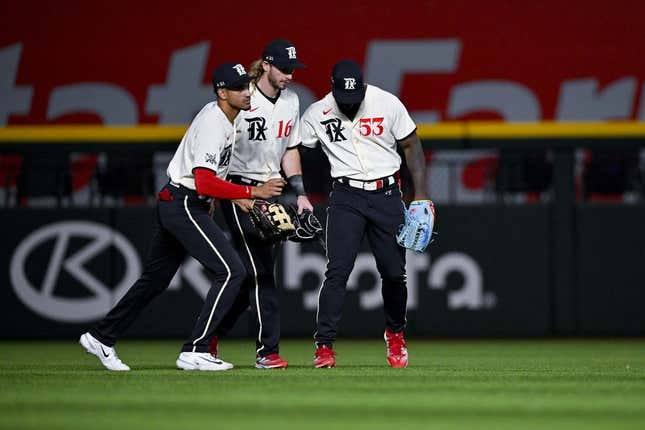 The Texas Rangers are back on track after a brief deviation from the script on Friday night
Does Jimmy Butler have the best NBA Finals origin story? | Agree to Disagree
Manager Bruce Bochy's squad was 8-2 in its previous 10 games entering the series opener against the Oakland A's on Friday but was upended 5-4 before winning 18-3 in a romp on Saturday.
Now Texas is seeking its fourth straight series win in Sunday's game with the Athletics, having showcased its offensive prowess on Saturday night
Adolis Garcia hit three home runs and a pair of doubles -- becoming the first player in American League history to do so -- Josh Jung extended his hitting streak to 10 games, and Jonah Heim has reached base in 11 straight.
"These guys do feed off each other," Bochy said following Saturday's win. "It does get contagious."
The Rangers' six innings with five-plus runs this season leads the majors, and Saturday's 18-run output marked the team's highest scoring performance of 2023
Seeking to parlay that momentum into the series finale, right-hander Jacob deGrom (1-0, 3.48 ERA) will start on the mound for Texas. The two-time Cy Young Award winner has struck out 32 while walking just three in 20 2/3 innings.
There was a question as to whether deGrom would start this game after he left Monday's outing against the Kansas City Royals with wrist soreness after throwing four hitless innings and 58 pitches. But Bochy said Saturday that deGrom threw a bullpen session without issues on Friday and is ready to pitch.
"He said he feels fine and he's ready to go," Bochy said, as reported by The Dallas Morning News. "[If he wasn't]. he wouldn't be pitching."
DeGrom will make his second career start against Oakland, having faced the A's for the only time in 2022 as a member of the New York Mets. He allowed five runs and took the loss in that 10-4 game.
Left-hander Kyle Muller (0-1, 7.23 ERA), Oakland's scheduled starter, has faced the Rangers once in his career. As a member of the Atlanta Braves last season, he took the loss as he allowed seven runs on four hits with six walks and three strikeouts in 2 2/3 innings
This season, Muller has made four starts, and Oakland has lost each one.
Oakland has not won consecutive games this season nor won a series. The chance to come up with a series win remains on the table for the A's on Sunday, before they return to the West Coast for four road games against the Los Angeles Angels.
The A's road trip to Texas has been clouded by news that the team has bought land in Las Vegas for a new ballpark. In fact, A's manager Mark Kotsay spoke to reporters on Friday for the first time since the news broke, and responded to inquiries of the possible relocation by maintaining a focus on 2023.
"My position, where I stand is, I'm managing this team, and I don't have control over those decisions," Kotsay said, per a report from Sports Illustrated. "My focus is on getting this team better. Improving with the maturation of these young players, and winning as many games as possible."
But the A's have a long way to climb this season. They have just four wins in 21 games, and their run differential already is minus-100 -- double that of the Kansas City Royals, whose minus-50 differential is second in the majors.
The Rangers are batting an MLB-best .372 for the season. The A's pitching staff has an ERA of 8.08. Kansas City's is next at 5.54
--Field Level Media