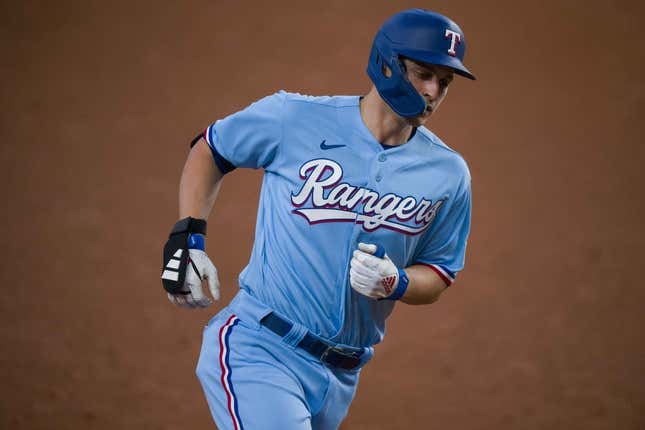 The Texas Rangers have dropped out of a playoff position due to their recent struggles and will try to reverse that trend when they visit the Toronto Blue Jays on Monday night.
How running an NFL team is like running a restaurant | Chef Emeril Lagasse
The Rangers (78-64) open the four-game series a half-game behind the Seattle Mariners (79-64) for the third American League wild-card spot. They are also 1 1/2 games behind the Blue Jays (80-63), who have moved into the second wild-card position.
The Rangers won two of three games against the Blue Jays in Arlington, Texas, from June 16-18, so they can win the season series — and the tiebreaker — with a split in Toronto.
The Blue Jays defeated the Kansas City Royals 5-2 on Sunday to complete a sweep of a three-game series that opened a 10-game homestand.
Toronto completed a 10-5 run of 15 games against teams with losing records.
"I love the last three games, sweeps are hard no matter who you are playing," Blue Jays manager John Schneider said. "Probably left a couple on the table on the road. But the vibe and the energy with which they're playing is really, really contagious and infectious. They all know it's a big series. It's easy to look past (Sunday) after you win the series (Saturday) with Texas coming."
Toronto had breaks go its way on Sunday. It tied the game without a hit in the sixth on two walks and three consecutive wild pitches by Royals starter Cole Ragans.
Kevin Kiermaier hit a go-ahead home run in the seventh to send the Blue Jays into their series with the Rangers on a positive note.
"We know we're playing a team who's in the wild-card hunt as well," Kiermaier said. "We've got to play great baseball from here on out because our opponents are all in the thick of it, in a somewhat similar boat as us.
"But we're in a great position right now and life is all about taking advantage of opportunities."
Meanwhile, the Rangers beat the Oakland Athletics 9-4 on Sunday in the rubber match of a three-game series.
"We won the ballgame, we scored a lot of runs, we kept the lead," Rangers second baseman Marcus Semien said. "We just want to build off that. What happened in the past happened in the past. We can dwell on it, or we can focus on what's ahead. I think that we can focus on what's ahead."
Prior to the series with Oakland, Texas had lost six of its last seven games. The Rangers are also 6-16 over their last 22 games.
Semien, who played for the Blue Jays in 2021, went 4-for-5 with two home runs and a double on Sunday.
The Blue Jays are scheduled to start right-hander Chris Bassitt (14-7, 3.69 ERA) on Monday. In 14 career outings (10 starts) against Texas, Bassitt is 5-2 with a 3.32 ERA.
Texas is scheduled to start right-hander Dane Dunning (9-6, 3.88). He is 2-0 with a 3.74 ERA in four career starts against Toronto.
—Field Level Media