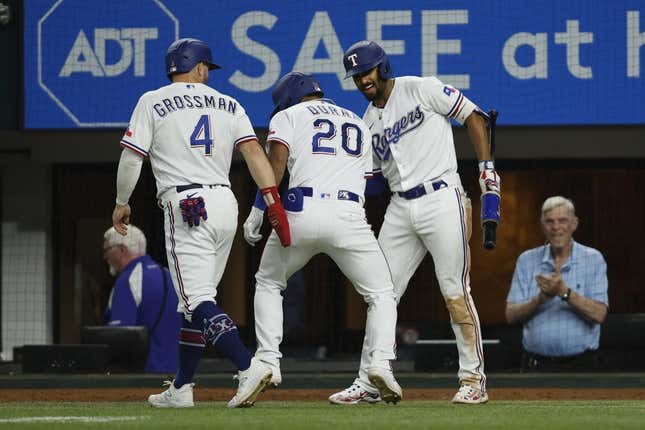 If Game 1 of the three-game series is any indication of what's to come, there won't be much margin for error when the Texas Rangers and Tampa Bay Rays collide in Arlington, Texas, on Tuesday night
How running an NFL team is like running a restaurant | Chef Emeril Lagasse
After the Rangers won the series opener 3-2 in walk-off fashion on Monday thanks to a wild pitch, they will send All-Star right-hander Nathan Eovaldi (10-3, 2.83 ERA) to the mound to face Rays rookie right-hander Taj Bradley (5-5, 5.43)
Tuesday's meeting will be a rematch of a June 10 pitching matchup in which Eovaldi and the Rangers emerged with an 8-4 victory over Bradley and the Rays
Eovaldi will be making his first appearance since closing the first half of the season with a no-decision against the Boston Red Sox on July 6. In that contest, he allowed four runs on five hits with four walks and three strikeouts over 5 1/3 innings.
In 16 career appearances (14 starts) versus Tampa Bay, Eovaldi is 6-6 with a 4.17 ERA. He surrendered four runs on seven hits in 6 1/3 innings when he faced the Rays back on June 10, striking out six and walking three
Eovaldi played for Tampa Bay in 2018, going 3-4 with a 4.26 ERA across 10 starts.
He will hope to get more offensive backing from Ezequiel Duran. The Texas left fielder hit a two-run home run in the sixth inning on Monday after entering the contest hitting .158 (6-for-38) over his previous 10 games.
"He's been in a little bit of a skid, that's fair to say," Rangers manager Bruce Bochy said. "He got a pitch he could handle, and that's what he was doing most of the first half, getting those big hits for us.
For the Rays, Bradley struggled to close the first half. He went 0-2 with an 11.68 ERA over his last three starts, most recently allowing four runs on five hits with four strikeouts and two walks in five innings against the Atlanta Braves on July 8
When Bradley faced the Rangers for the first time of his career in the June 10 matchup, he gave up five runs (four earned) on four hits in 3 2/3 innings while walking four and fanning four
After a stunning start to the season, the Rays now find themselves just one game ahead of the Baltimore Orioles in the American League East
Tampa Bay scraped out just five hits on Monday, scoring single runs in the first and second innings. Josh Lowe provided the second run with a solo homer.
All-Star third baseman Yandy Diaz, who was activated off the paternity list before Monday's game, scored Tampa Bay's first-inning run after leading off the game with a single. He finished the night 1-for-4.
The Rays praised Rangers starter Dane Dunning for shutting them down
"Dunning's put together a really, really good season," Tampa Bay manager Kevin Cash said. "We had the big home run from Josh, but (Dunning) pitched really, really well. That was a well-pitched game on both sides, and Dunning certainly did his part."
--Field Level Media