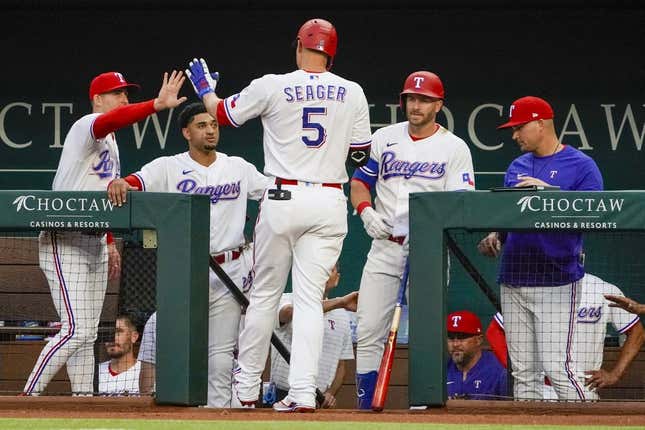 All-Star reinforcements are nearing their return to the Texas Rangers
Manager Bruce Bochy said three-time All-Star shortstop Corey Seager is due back next week, but could require a rehab assignment. Seager fielded groundballs before Wednesday's game.
It could be another few weeks for right-hander Jacob deGrom, who left his April 28 start with forearm tightness.
General manager Chris Young said the ace had an MRI that revealed inflammation in his elbow. Treatment was prescribed before deGrom is allowed to resume baseball activity, which could be days or weeks. He also left a game on April 17 with right wrist soreness, but made his next scheduled start.
Bochy said deGrom isn't that far away from starting to play catch.
"He hasn't started throwing yet, but he feels great," Bochy said of deGrom on ESPN's Baseball Tonight podcast. "We're in probably that three-week area (for deGrom's return), and we're almost a week into that now."
Bochy said Seager isn't "big on" a rehab stint. Because he's been hitting for two weeks, the Rangers will make a decision on his return after the upcoming weekend series with the Angels
Seager was placed on the 10-day injured list on April 12 with a Grade 2 left hamstring strain.
Seager, the 2016 National League Rookie of the Year with the Los Angeles Dodgers, sustained the injury while legging out a double in Tuesday night's win over the Kansas City Royals. He immediately exited the game.
Seager, 28, is batting .359 with a 1.008 OPS in 11 games this season. He has four doubles, a homer and seven runs. He's in the second season of a $325 million, 10-year contract with the Rangers. He's coming off his third All-Star campaign. He has slugged 138 career HRs
--Field Level Media