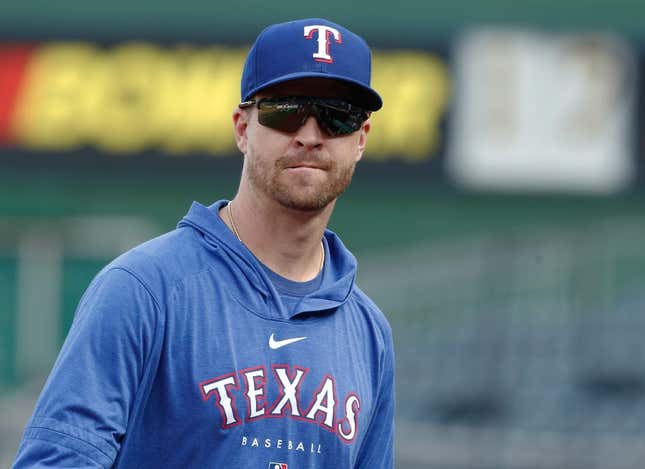 In his first comments since having Tommy John surgery earlier this week, Texas Rangers pitcher Jacob deGrom said his goal is to return by August 2024
How running an NFL team is like running a restaurant | Chef Emeril Lagasse
He said the hardest part is now behind him.
"That's when you're dreading going in and getting it done," deGrom told reporters before Sunday's game against the Toronto Blue Jays. "Now it's over with. It feels good. Everything went well. I look forward to doing all the rehab stuff to get back out there."
The typical recovery time for the operation -- reconstructive surgery to repair a torn ulnar collateral ligament - is at least 12 to 14 months. deGrom turns 35 on Monday.
deGrom had Tommy John surgery once before, in October 2010 while he was a prospect in the Mets' organization.
"I know what it takes to come back," deGrom said. "It takes a lot of hard work and sticking with the program, not trying to do too much. That's where it became tricky my first time. I felt good and really wanted to keep going."
The veteran right-hander will wear a large brace for three weeks and has begun the rehab process, which involves moving his hand while wearing the brace. He will take part in rehab sessions five days a week at the sports surgery center in Arlington, Texas.
The Rangers gave the injury-prone deGrom a five-year, $185 million contract in free agency last December and got six starts out of him before he needed to be placed on the injured list with right elbow inflammation
A two-time National League Cy Young Award winner with the New York Mets, deGrom has a history of arm woes in recent seasons. He made just 38 starts and pitched 224 1/3 total innings over the past three seasons with the Mets before departing as a free agent.
In his first six starts with Texas, deGrom went 2-0 with a 2.67 ERA and had 45 strikeouts to just four walks in 30 1/3 innings.
--Field Level Media