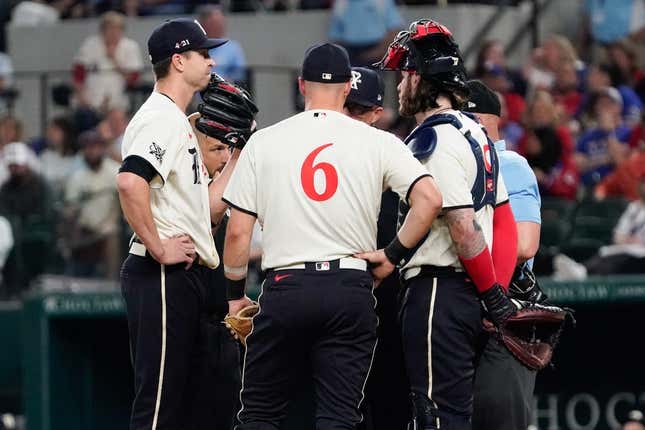 Texas Rangers right-hander Jacob deGrom is dealing with lower forearm tightness near his pitching wrist, manager Bruce Bochy told reporters on Saturday
Bass' ERA stinks, but not compared to who he is off the mound | Worst of the Week Countdown
The 34-year-old deGrom departed after 3 2/3 innings in Friday's contest against the New York Yankees. It marked the second time this month he left a start due to issues in that part of his arm.
Bochy termed it as "same thing cramped up on him again" after deGrom was forced out Friday after allowing one hit in his scoreless outing.
The first incident occurred on April 17 against the Kansas City Royals. That time, deGrom departed after pitching four hitless innings.
Bochy said the club will have to be patient regarding deGrom's status.
"We'll just wait to hear what the doctors say, and we'll find out if he needs time or not," Bochy said. "Obviously, we're being optimistic having gone through this a little already with him."
The Rangers signed the two-time National League Cy Young Award winner to a five-year, $185 million deal in the offseason. The injury problems aren't new for deGrom, who made just 26 starts and pitched 156 1/3 total innings over the past two seasons
deGrom won the Cy Young Awards in 2018 and 2019. Counting 30 1/3 innings this season, he has been on the mound for just 254 2/3 frames over the last four seasons.
In six starts for Texas, deGrom is 2-0 with a 2.67 ERA and has struck out 45.
--Field Level Media