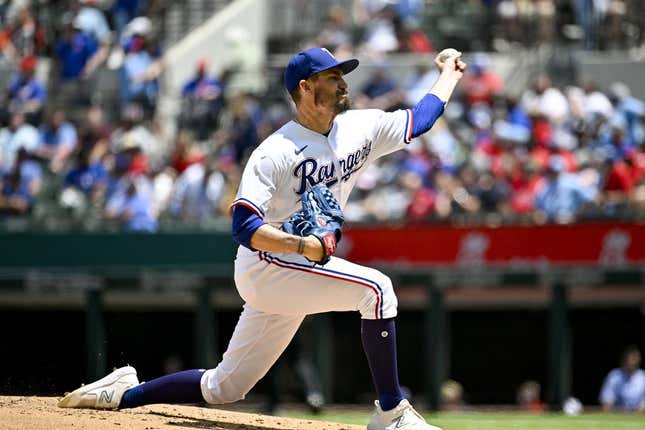 The first-place Texas Rangers have shown they can win slugfests. If they start winning pitching duels, too, they might not be caught in the American League West
Aaron Rodgers should go full Joe Namath | Comedian Bert Kreischer
The Rangers won a low-scoring affair on Monday in Seattle, overcoming six perfect innings from the Mariners' Logan Gilbert at the game's outset to prevail 2-1
The three-game series between the division rivals will continue on Tuesday night in Seattle.
The Rangers scored 16 runs in a Sunday victory against the Los Angeles Angels in Anaheim, Calif., the third time they have scored at least that many this season. By comparison, the 29 other major league teams have combined to score 16 or more runs just five times in 2023
Monday was quite a different story.
"You're going to run into a well-pitched game, and I've said this: If that happens, you need your guy to go out there and pitch well," Rangers manager Bruce Bochy said
Texas starter Jon Gray did that, allowing one run on four hits in seven innings. He didn't walk a batter and struck out eight as the Rangers won for the seventh time in their past nine games
The Rangers didn't have a baserunner until Marcus Semien led off the seventh by grounding a single up the middle. Thanks to two more hits, a walk and a sacrifice fly in the inning, Texas scratched out two runs against Gilbert -- and that was enough for a victory
"It's kind of a deflating blow once you give up a hit," Semien said of the opposing pitcher's mindset. "Third time through the lineup, they don't have as good of stuff and we've seen them twice."
Seattle manager Scott Servais lamented that his team wasn't able to make the necessary offensive adjustments.
The Mariners fanned 13 times without drawing a walk in the series opener. Rangers closer Will Smith struck out the side in the ninth inning, two on check swings
"That kind of pitching performance (from Gilbert), you certainly expect to win the ballgame," said Servais, whose team had won six of its previous seven games to temporarily get back to .500. "At certain times, we're too easy to pitch to. This game is about adjustments at this level. Once you are struggling a certain way, every team is watching video. They all jump on the wagon at the same time. Now you have to make the adjustment back. ...
"We haven't been able to get on a roll (offensively). Every time I think we're about to, we take a step back. We'll get back after it (Tuesday)."
Rangers left-hander Andrew Heaney (2-2, 5.52 ERA) is scheduled to match up against Mariners right-hander George Kirby (3-2, 3.11) on Tuesday
Heaney is 4-6 with a 4.41 ERA in 15 career starts against Seattle. He is looking to bounce back from one of his worst starts of the season, as he yielded six runs on four hits and four walks in 4 2/3 innings against the Arizona Diamondbacks on Wednesday.
Kirby is 2-0 with 1.99 ERA in four starts vs. Texas, all of those outings occurring during his rookie year of 2022. He has won three of his past four starts and has made quality starts in each of his past five outings.
Kirby beat the host Oakland A's on Thursday after giving up three runs on seven hits in seven innings.
--Field Level Media