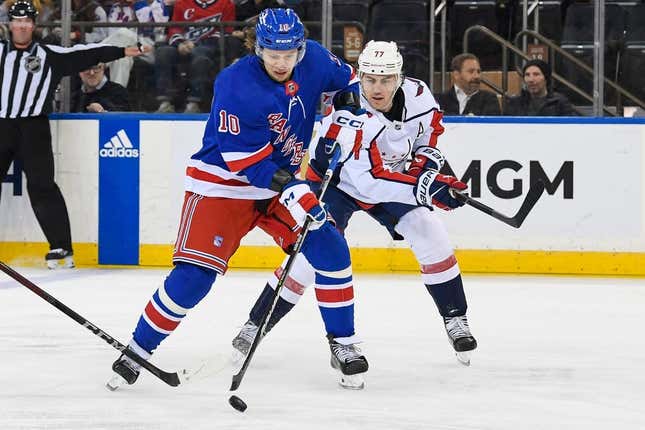 The Washington Capitals are on the brink of missing the playoffs for just the fourth time in Alex Ovechkin's career
Air Jordans are more American than McDonald's French fries | Deon Cole's Ultimate Sports Fantasy
But the playoff-bound New York Rangers might be the more ill-tempered team Sunday afternoon when they visit the Capitals for the final regular-season meeting between the longtime division rivals
The Rangers concluded a winless back-to-back road set Friday when they fell 2-1 to the Buffalo Sabres in overtime. The Capitals haven't played since Thursday, when their playoff hopes continued dimming with a 5-1 loss to the host Tampa Bay Lightning
The consecutive losses were the first since March 2-4 for the Rangers (44-21-11, 99 points), who clinched a playoff berth Monday night and will assure themselves no worse than a third-place finish in the Metropolitan Division with either one more point or one more loss by the New York Islanders
But the losses to the Sabres and the New Jersey Devils -- who solidified their grip on second place in the Metropolitan with a 2-1 win on Thursday night -- left Rangers coach Gerard Gallant in a bad mood Friday night
"We want to win games," Gallant said. "I'm (ticked) off tonight, because we got one point. We want to win hockey games. That's what we're here for."
The Rangers -- who entered Saturday three points behind the Devils and four points behind the first-place Carolina Hurricanes in the Metropolitan -- fell behind 2-0 Friday for the third time in four games
The three goals the Rangers have scored in the last two games are their fewest in a two-game span since they absorbed back-to-back 4-1 losses to the Winnipeg Jets and Detroit Red Wings on Feb. 20-23
"We clinched, what, a week ago?" Gallant said. "And it seemed like we clinched and the season's over. It's not the way it's supposed to work. You're supposed to compete every night and try and play hard every night and do the best you can. And I didn't like the way we played tonight at all."
The second half of the season has been filled with unsatisfying games for the Capitals (34-33-9, 77 points), who have lost three straight (0-2-1) and six of seven (1-4-2) to all but fall out of the playoff race
The Capitals have lost 16 of 23 (7-13-3) since Feb. 1, a span in which they've won consecutive games just once. The loss to the Lightning marked the second straight game in which they scored just one goal
Washington entered Saturday in 12th place in the Eastern Conference and seven points behind the second wild card, the Pittsburgh Penguins. The Penguins have a game in hand.
The Capitals haven't missed the playoffs since the spring of 2014, which was the first time they were home for the tournament since 2007 -- back when Ovechkin was completing his second season in the NHL
"We're focused on the end of this year here," Capitals defenseman Trevor van Riemsdyk said prior to Thursday's game. "We need every point we can get. We know we've got to have a really hot finish here to have a chance.
--Field Level Media