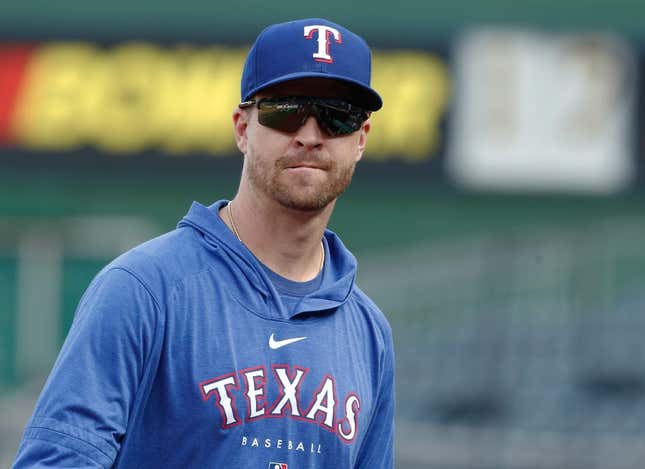 Jacob deGrom underwent Tommy John surgery on Monday, and Texas Rangers manager Bruce Bochy called the operation a success
How running an NFL team is like running a restaurant | Chef Emeril Lagasse
deGrom had a torn ulnar collateral ligament in his right elbow repaired, a procedure that ends the right-hander's season and could see him miss at least part of next season.
"All went well," Bochy said, according to the Dallas Morning News. "He's feeling great."
deGrom, a two-time National League Cy Young Award winner, signed a five-year, $185 million free agent deal with the Rangers in December. However, he was just six starts into his Texas tenure when he left his April 28 outing against the New York Yankees due to elbow inflammation
He threw a successful 32-pitch bullpen session on May 22 and appeared close to returning. deGrom never did get into another game, though, and an MRI exam early last week diagnosed the torn UCL.
The Tommy John surgery was the second for deGrom. He missed the full 2011 season due to the first procedure while he was a minor-leaguer in the New York Mets' system. deGrom recovered to be the NL Rookie of the Year in 2014 and NL Cy Young winner in 2018 and 2019.
The past two years, he missed time with the Mets due to forearm, elbow and shoulder issues.
This season, deGrom went 2-0 with a 2.67 ERA, 45 strikeouts and four walks in 30 1/3 innings.
In 10 major league seasons (the first nine with the Mets), deGrom owns an 84-57 record and a 2.53 ERA in 215 starts. According to baseball-reference.com, his career 5.38 ratio of strikeouts to walks is the best in major league history: 1,652 strikeouts and 307 walks in 1,356 1/3 innings.
--Field Level Media