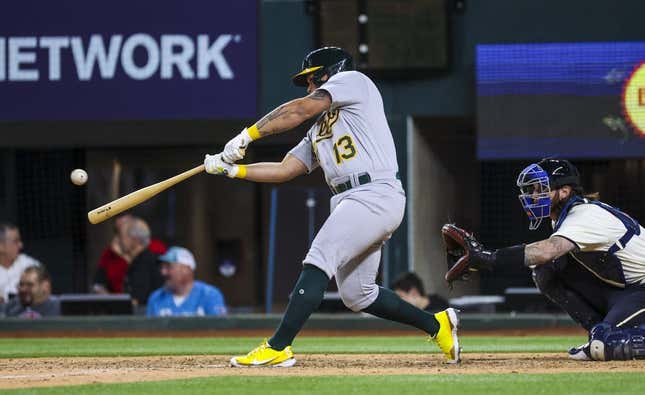 After having their four-game winning streak snapped in surprising fashion, the Texas Rangers will attempt to bounce back when they continue their three-game series against the Oakland Athletics on Saturday evening in Arlington, Texas
Chris Paul should ride the bench next season | Keep it a Buck(et)
Texas entered the weekend with a 12-6 record, its best start since 2013. The team's momentum ended abruptly on Friday with a 5-4 loss to the Athletics, who ended a seven-game losing streak
Pinch-hitter Jordan Diaz's first major league homer, in the ninth inning, broke a 4-4 tie and gave Oakland just its fourth win in its first 20 games. Diaz was playing in his second game since being recalled from Triple-A Las Vegas on Wednesday.
"We needed that," Oakland pitcher JP Sears said. "Those balls have been kind of hitting off the wall for us recently, so it was nice to see that one slide over. (Diaz) is a great addition for us. He's got an electric bat."
Tony Kemp added a solo homer for Oakland, which rallied after falling behind 4-0 in the first inning.
Shintaro Fujinami (0-3, 11.37 ERA) will take the mound for the Athletics on Saturday. The right-hander is set to make his fourth major league start after pitching 10 seasons in Japan, and he will oppose Texas for the first time
Fujinami, 29, allowed three runs on four hits over six-plus innings in a 3-2 loss to the New York Mets on April 15. He is the fourth pitcher in the franchise's Oakland era to take the loss in each of his first three career appearances.
Despite the rough start, Fujinami has impressed opposing batters, including Mets outfielder Mark Canha.
"He has really good stuff," Canha said. "Whatever success he has wouldn't surprise me, just because his stuff is electric. He throws really hard. He's got a good splitter. He's got that little slider. I think for him it's just a matter of, if he's commanding the ball, it's really tough."
Texas will counter with Andrew Heaney (1-1, 4.97). After struggling in his season debut, the left-hander has not allowed an earned run in his past two outings covering 10 innings.
Heaney, 31, battled control issues, but his team earned a 9-1 victory over the Houston Astros on Sunday. He tossed five shutout innings, allowing two hits and three walks and hitting a batter with a pitch.
"I kept us in it, did just enough," Heaney said. "It was a little bit frustrating, but obviously a win is a win, and that's what I want at the end of the day."
Kemp has one hit in seven at-bats against Heaney, who is 2-4 with a 4.44 ERA in nine career starts vs. Oakland. Heaney is winless in his past six outings against the Athletics dating to 2018
Texas catcher Jonah Heim hit a three-run homer in the loss Friday, giving him four homers and 12 RBIs in his past eight games.
Rangers ace Jacob deGrom is expected to make his scheduled start on Sunday in the series finale after leaving his Monday outing with right-wrist soreness. The two-time American League Cy Young Award winner threw a regular bullpen session on Friday
"If everything goes well, sure, we've thought all along he would pitch (Sunday) unless something flared up or whatever," Texas manager Bruce Bochy said. "So now he's on track. I'll have a better answer (Saturday)."
--Field Level Media