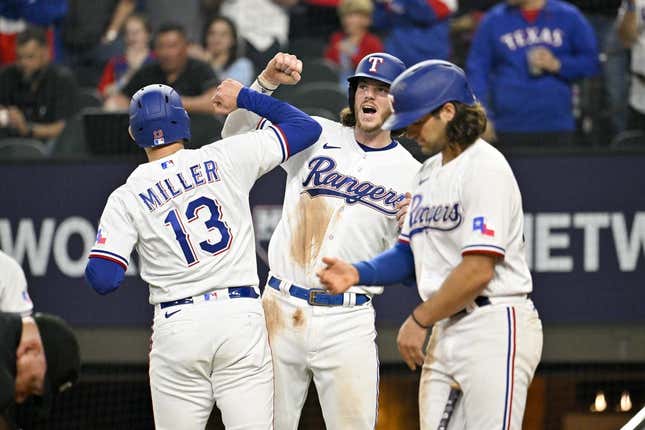 Robbie Grossman and Brad Miller homered and the Texas Rangers exploded for nine runs in the fourth inning in an 11-7 victory over the visiting Philadelphia Phillies on Thursday in Arlington, Texas
Grossman went 1-for-3 with a three-run homer and a walk, while Miller's lone hit in four at-bats was a two-run shot for the Rangers. Adolis Garcia and Jonah Heim each had two hits and two RBIs, with Marcus Semien adding two hits and a run for Texas
Alec Bohm went 3-for-4 with a two-run homer, a double, two runs and three RBIs for the Phillies. J.T Realmuto had three hits and Nick Castellanos and Brandon Marsh each added two for Philadelphia, which saw Trea Turner go 1-for-4 with an RBI triple and a run in his Phillies debut
Trailing 5-0 entering the bottom of the fourth, the Rangers loaded the bases before Heim's double trimmed the deficit to 5-2, with Josh Jung advancing to third. Three pitches later, Grossman drove Aaron Nola's fastball over the right-center field fence to tie the game
After Gregory Soto (0-1) relieved Nola, the Rangers loaded the bases again on two walks and a single by Semien and Nathaniel Lowe scored Josh Smith on an infield single
Nola was rocked for five runs on four hits with four strikeouts and two walks in 3 2/3 innings.
Connor Brogdon relieved Soto and the Rangers increased their lead to 7-5 on a passed ball before Garcia capped the outburst with a two-run single to right that scored Corey Seager and Lowe
After Bohm's fifth-inning RBI single made it 9-6, Miller launched a 407-foot, two-run homer to center in the bottom of the inning to push the lead to 11-6.
The Phillies took a 2-0 lead in the second inning on Bohm's two-run homer, then pushed the advantage to 4-0 in their next at-bat
Turner's triple to right scored Marsh, who led off the inning with a triple to right. Six pitches later, Turner crossed the plate on Jacob deGrom's wild pitch.
One batter after deGrom gave up a double to Bohm, he was replaced by Cole Ragans (1-0), who gave up a run-scoring double to Marsh that put the Phillies up 5-0
deGrom allowed five runs on six hits with seven strikeouts and no walks in just 3 2/3 innings in his Rangers debut
--Field Level Media