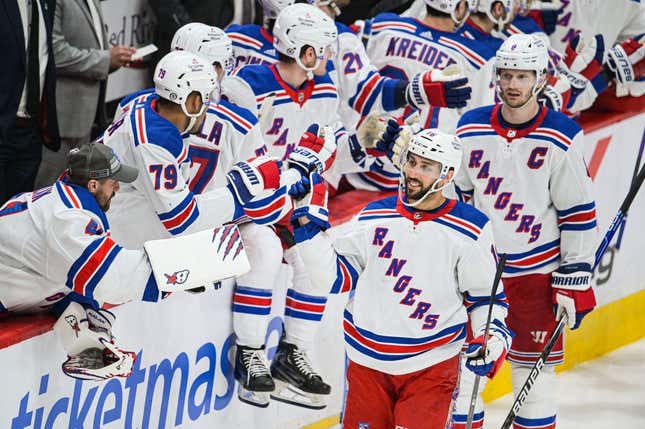 Coming off a rollicking victory over the team who eliminated them from the Eastern Conference finals in June, the New York Rangers admitted that they had little juice left on the second night of a back-to-back in a visit to the eliminated St. Louis Blues
Can the Florida Panthers make a comeback? | Agree to Disagree
While the Rangers mustered a point, they were unable to keep pace with the New Jersey Devils, increasing the likelihood their postseason will open on the road
New York will hope to generate much better energy Saturday night and get the two points when it visits the Columbus Blue Jackets
The Rangers (46-21-12, 104 points) are four points behind the Devils for second place in the Metropolitan Division and home-ice advantage in the first round of the playoffs. As it stands, the rivals are on track to meet in the postseason for the first time since the 2012 Eastern Conference finals
While the Rangers conclude the season series with Columbus ahead of home games with the Buffalo Sabres and Toronto Maple Leafs, the Devils visit the league-best Boston Bruins, host Buffalo and visit the Washington Capitals
New York coasted to a 6-2 win in the last meeting with Columbus on March 28 at home. Since then, the Rangers are 2-1-2 in their past five after getting mixed results against the Tampa Bay Lightning and Blues
After scoring the first three goals of a penalty-filled 6-3 home win over the Lightning Wednesday, the Rangers finished with just 24 shots on goal in a 3-2 overtime loss to St. Louis
With 2:03 remaining in regulation and goalie Jaroslav Halak pulled, Vincent Trocheck scored a tying goal on the power play. The Rangers converted both man advantages and are 5-for-11 on power plays in their past three games
"It's a little bit of a funky game, probably," Rangers captain Jacob Trouba said. "I don't think it was our best game all around. We gave ourselves a chance at the end, got a point. Overtime could go either way.
Vladimir Tarasenko scored the other goal and also set up Trocheck's tying goal. Patrick Kane was held out for a second straight game as a precaution with a lower-body injury while Trouba played after exiting Wednesday's game with an upper-body injury.
Columbus (24-46-8, 56 points), tied with the Chicago Blackhawks and the Anaheim Ducks for the fewest points in the NHL, is 1-5-1 over its past seven games since consecutive overtime wins against Washington and the New York Islanders. During those past seven contests, the Blue Jackets have been outscored 38-12 and allowed six power-play goals
On Thursday, the Blue Jackets allowed the final five goals of an 8-1 loss to the host Devils
"You can't take nights off, take plays off, you can't take shifts off," Columbus center Sean Kuraly said. "This year has been a lot of learning, some of it the hard way. It's not fun to be a part of it."
Similar comments have been made often this season, as Thursday marked the 14th time the Blue Jackets lost by at least four goals and seventh time they allowed at least seven goals
Columbus had a season-low 17 shots on goal Thursday and played without nine players due to injuries. The Blue Jackets also lost Johnny Gaudreau when he exited after playing three shifts due to an illness that may keep him sidelined Saturday
--Field Level Media