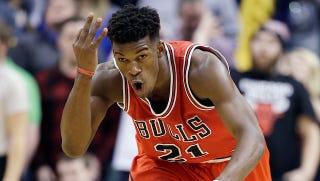 We expected a lot from the Chicago Bulls after the offseason. They signed Pau Gasol. Derrick Rose actually played competitive basketball for Team USA over the summer. And after a win tonight against Indiana, the Bulls' 10th in their last 11 games, it appears the plan is finally coming together.
What we haven't expected? Jimmy Butler turning into an All-Star shooting guard. Butler keyed the Bulls' win tonight, with 27 points and 9 rebounds in addition to his usual stellar defense. Over the course of the season, Butler is averaging 22 points, over 3 assists and over 6 rebounds a game — all career highs.
He's behind Dwyane Wade in the All-Star voting right now, but Butler has been the Bulls' best player this year, and is certainly a candidate to start for the East. He's carried the team while Rose has been working his way back into form. Butler's PER is 22.74. In comparison, Klay Thompson's is just 19.87. (It's not the tell-all stat, and Butler plays great defense either way.)
Butler's emergence, in addition to prospect of a fully-back Rose and the Gasol-Joakim Noah frontline, makes the Bulls scary as fuck. For all the talk of Washington and Toronto — who have certainly had great seasons — Chicago has made its case the past three weeks as the team to beat in the East. I mean, just watch this play from Noah tonight:
This team is going to be fun as hell to watch in the playoffs.
Photo via AP