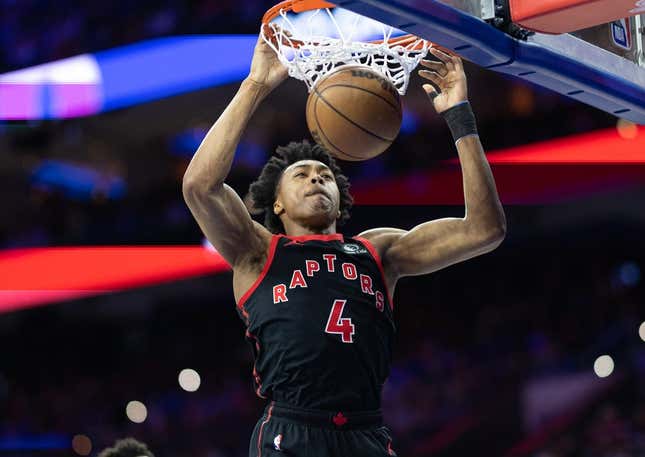 For the Toronto Raptors to secure a spot in the NBA's play-in tournament, they can't afford any missteps, beginning with Sunday afternoon's visit to Charlotte to face the Hornets
Does Jimmy Butler have the best NBA Finals origin story? | Agree to Disagree
Both teams were riding three-game winning streaks until tumbling in their most recent games. Both teams occupy last place in their respective Eastern Conference divisions, but at 38-39, the Raptors sit in ninth place in the Eastern Conference, four games clear of the 11th-place Washington Wizards with five to play
The Raptors' magic number to clinch a play-in spot is one. The Hornets (26-52) are eliminated from postseason play
The Raptors lost Friday night's 117-110 decision at Philadelphia despite forward Scottie Barnes pouring in 29 points on 13-for-19 shooting from the field
Key for Toronto will be keeping focus as they attempt to clinch a play-in spot and head to the tournament with momentum.
"It's been a difficult season from a number of standpoints," head coach Nick Nurse said Friday.
"Early on, had some pretty serious injuries with some key guys. I thought we kind of weathered that for a while ... and then yeah, I think the trade deadline stuff, I don't know if there was a thousand rumors, 999 of them were about us, it seemed like."
Nurse made some news Friday by saying that after the season, he'll assess his plans to "take a few weeks and see where I am" in terms of his future.
It will be interesting to see if that turns out to be a motivator or a distraction for the Raptors
As for the Hornets, they crumbled early and ended up with a 121-91 home loss to the Chicago Bulls on Friday
"What I was hoping for was a better defensive response," coach Steve Clifford said.
James Bouknight scored a season-high 22 points behind 6-of-11 shooting from the 3-point line.
Chicago scored 29 points off Charlotte's 22 turnovers. That's a particular concern given the Raptors' often pesky nature
"Toronto is going to be the same. They're going to be aggressive," Clifford said. "They're tough on the ball. You've got to be able to play through contact, play with good force."
The list of injured Charlotte players has grown. P.J. Washington with a sprained right foot has been added to that list, which already includes LaMelo Ball, Terry Rozier, Kelly Oubre Jr., Gordon Hayward and Dennis Smith Jr.
It's possible that Sunday the only available player who has been in the Hornets' starting lineup for any length of time will be rookie center Mark Williams, who has started 14 of his 40 games and recently returned from a thumb injury
"It's part of it," Clifford said of dealing with injuries. "It's part of the game."
Barnes was Toronto's leading scorer for the first time in nine games in the Philadelphia game. He had 21 and seven points, respectively, in two earlier meetings with Charlotte this season.
The teams will meet in the same arena Tuesday night.
The Raptors and Hornets also played back-to-back games with one day in between in January in Toronto, where the Raptors won by scores of 132-120 and 124-114. Pascal Siakam was the top scorer in both of those games for Toronto with 28 and 35 points
The two leading scorers for the Hornets in those games -- Rozier with 33, Ball with 32 -- are out, so Charlotte will need new sources of offense
--Field Level Media