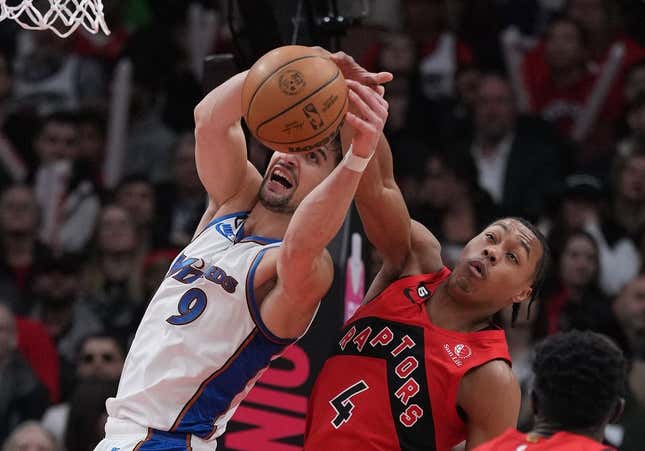 O.G. Anunoby had 29 points and eight rebounds, and the Toronto Raptors defeated the visiting Washington Wizards 114-104 on Sunday.
Air Jordans are more American than McDonald's French fries | Deon Cole's Ultimate Sports Fantasy
Fred VanVleet added 28 points and seven assists for the Raptors, who are 2-1 during a four-game homestand.
Toronto (37-38) won two of three meetings with the Wizards (33-42) this season.
Pascal Siakam had 19 points and 11 rebounds for Toronto. Scottie Barnes contributed 13 points after missing two games with a wrist injury, and Jakob Poeltl had 12 points and 12 rebounds.
Kristaps Porzingis scored 26 points for the Wizards, who have lost five of their past six games. Corey Kispert added 19 points, Deni Avdija had 15 points, nine rebounds and seven assists, Johnny Davis scored a career-best 15 points and Daniel Gafford had 10 points and eight rebounds.
The Raptors, who led by 21 points during the first half, took a three-point lead into the fourth quarter.
Toronto opened the fourth with a 13-3 spurt to take a 13-point lead. Kispert's 3-pointer cut the lead to 10 with 7:14 remaining in the fourth quarter. After Barnes blocked a shot, Anunoby made a dunk to stretch Toronto's lead to 18 points with 5:33 to play. Avdija's running dunk reduced the margin to 14 with 4:43 remaining.
Washington made it an 11-point game when Jordan Goodwin hit a trey with just over a minute to go, but by then it was too late to mount a comeback.
Anunoby scored 18 points to help Toronto to a 37-21 lead after one quarter. Toronto's Will Barton (ankle sprain) had two points before he left the game in the first quarter and did not return.
Washington trimmed the margin to eight when Porzingis hit a jumper with 6:43 remaining in the second quarter. VanVleet's layup bumped the lead to 14 with 3:08 left. Toronto used a 12-0 run to lead by 21 with 1:11 to go. Toronto led 63-46 at halftime.
Washington opened the third quarter with a 16-4 surge. Washington reduced the Raptors' lead to one point when Davis made a 3-pointer with 2:16 remaining in the third. Toronto led 87-84 after three quarters.
Gary Trent Jr. (elbow) did not play for Toronto.
Bradley Beal (knee) and Kyle Kuzma (ankle) did not play for Washington.
--Field Level Media