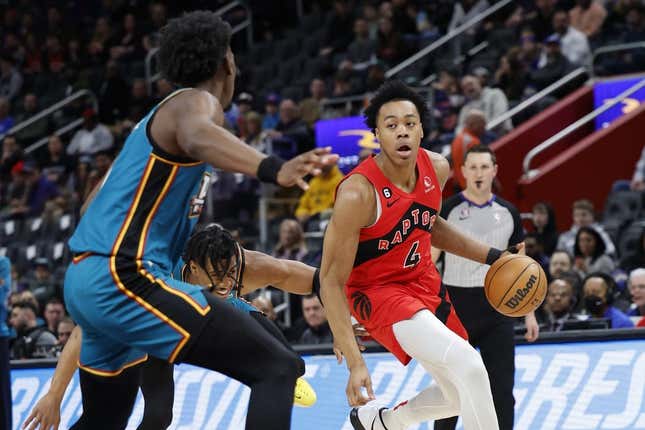 Pascal Siakam scored 29 points and the visiting Toronto Raptors defeated the Detroit Pistons 95-91 Saturday afternoon.
Gary Trent Jr. added 19 points for the Raptors, who have won four in a row for the first time this season.
Toronto has won the first three matchups against Detroit this season.
Scottie Barnes scored 12 points for Toronto, Precious Achiuwa added 10 points off the bench and Jakob Poeltl had nine points and 14 rebounds.
Marvin Bagley III had 21 points and 18 rebounds off the bench for the Pistons, who have lost four in a row. James Wiseman added 10 points and 10 rebounds, while Hamidou Diallo, Bojan Bogdanovic and Isaiah Livers each scored 11 points for Detroit and Jaden Ivey chipped in 10.
Detroit's Isaiah Stewart (right hip soreness) left in the third quarter and did not return. He had five points and nine rebounds.
Toronto took a one-point lead into the fourth quarter.
After Cory Joseph's 3-pointer tied the game at 84 with 3:44 remaining, Trent made a 3-pointer with 2:38 to go. Livers and Siakam exchanged dunks and Toronto still led by three with 2:01 left. Ivey made two free throws, trimming the deficit to one. Siakam made two foul shots with 11 seconds to go. Bagley made one of two free throws with four seconds left, then Siakam sealed the win with two free throws.
The game was tied 22-22 after one quarter.
Detroit led by six when Livers made a 3-pointer with 5:46 to go in the second quarter. Siakam made one of two free throws to tie it at 42-42 with 2:31 remaining. The score was 44-44 at halftime.
Barnes made a 3-pointer and then a layup to give Toronto a three-point lead with 9:50 to play in the third. Bogdanovic scored five straight points and Detroit led by four with 7:02 left in the third. Livers stretched the lead to seven with 2:51 remaining. Toronto came back as Achiuwa's layup completed the third-quarter scoring and gave Toronto a 71-70 lead.
Fred VanVleet (personal) missed his second straight game, while Jalen Duren (ankle) was also out for Detroit.
--Field Level Media