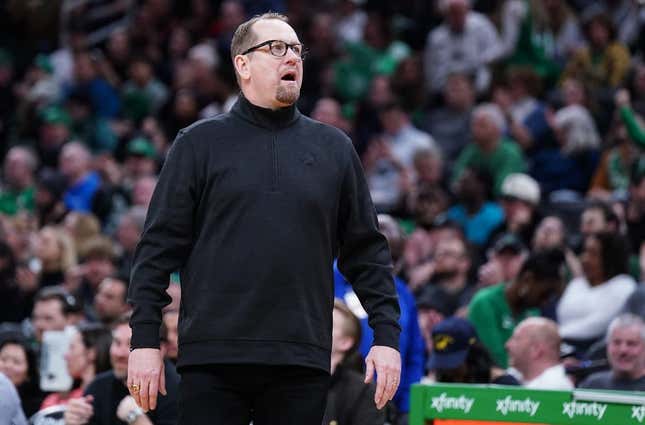 The Toronto Raptors fired Nick Nurse on Friday after five seasons as the team's head coach
Aaron Rodgers should go full Joe Namath | Comedian Bert Kreischer
Nurse, 55, guided the Raptors to their lone NBA championship in franchise history in 2018-19. Toronto, however, has struggled to achieve that level of success since then, following up a playoff run in 2019-20 by missing the playoffs in two of the next three seasons
Raptors president of basketball operations Masai Ujiri signaled a strong reset was ahead, noting his evaluation of the team pointed to a culture problem
"There was never that feel of togetherness," Ujiri said, calling the missing "spirit of who we are" disappointing.
The Raptors finished 41-41 and fell to the Chicago Bulls in the play-in tournament. Ujiri and Nurse, who had one season at $8 million remaining on his contract, met multiple times since the playoff tournament loss. They decided the best way forward was apart
"The decision to make a change like this is never arrived at easily or taken lightly, especially when it comes to a person who has been an integral part of this franchise's most historic accomplishments, and who has been a steady leader through some of our team's most challenging times," Ujiri said. "As we reflect on Nick's many successes, we thank him and his family, and wish them the best in the future.
"This is an opportunity for us to reset, to refocus, to put into place the personnel and the players who will help us reach our goal of winning our next championship."
Ujiri said the Raptors don't have to "tear the team down to build it back up," but considered the lack of development and playing time for younger players another weakness last season
"We didn't do so well with that this year," he said.
ESPN reported that Nurse is a top candidate for the head coaching position with the Houston Rockets. The network noted that former Boston Celtics coach Ime Udoka is expected to be a serious candidate to replace Nurse in Toronto.
Multiple reports also linked Ujiri to possible relocation opportunities, including renewed interest from the Washington Wizards.
Nurse joined the Raptors in 2013 as an assistant coach before being named the ninth head coach in franchise history in June 2018. He was named the NBA Coach of the Year during the 2019-20 season
Nurse compiled a 227-163 record during his five seasons as head coach of the Raptors
--Field Level Media