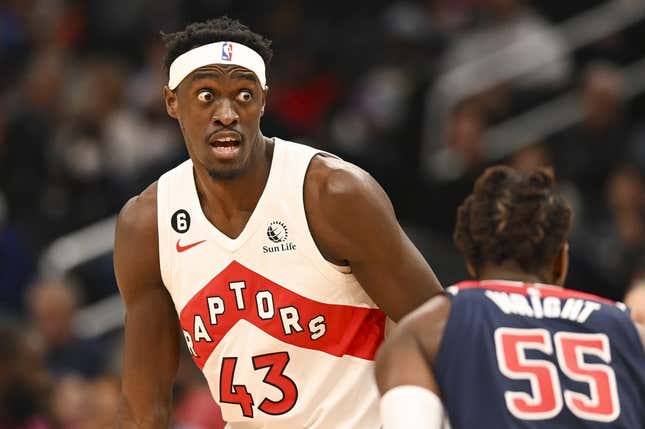 Fred VanVleet made two 3-pointers in overtime and scored 25 points -- adding 10 assists -- as the visiting Toronto Raptors defeated the Washington Wizards 116-109 on Saturday.
How running an NFL team is like running a restaurant | Chef Emeril Lagasse
Gary Trent Jr. scored 26 points off the bench for the Raptors, who split the two-game set in Washington.
Kyle Kuzma made two free throws with 1:00 to play in overtime to cut Toronto's lead to one. But VanVleet answered with his second 3-pointer of overtime.
Pascal Siakam had 15 points and four steals for the Raptors. Jakob Poeltl added 14 points and Scottie Barnes had 12 points.
Kristaps Porzingis recorded 22 points and 11 rebounds for the Wizards, who committed 24 turnovers. Bradley Beal added 21 points and 10 assists, Delon Wright supplied 18 points and six steals, and Corey Kispert had 12.
Toronto took a seven-point lead into the fourth quarter.
Trent's 3-pointer with 9:41 to play in the fourth quarter gave Toronto an 11-point lead. Trent's steal and layup increased the lead to 13.
Washington reduced the margin to eight on Kispert's 3-pointer with 7:02 left in the fourth. Kuzma scored five straight points to trim the margin to three with 5:23 to play.
Trent's 3-pointer had Toronto ahead by five with 2:43 left. Porzingis answered with a dunk and Wright's 3-pointer tied the game at 105 with 30.1 seconds to play to force overtime.
Washington led 30-26 after one quarter.
Washington used a 9-0 spurt to take an eight-point lead with 4:47 remaining in the second quarter. Toronto answered with nine straight points to lead by one with 3:05 left. The game was tied 53-53 at halftime.
The Wizards shot 59.4 percent (19-for-32) from the field in the first half, with Porzingis scoring 16 points.
The Raptors shot 48.9 percent (22-for-45) from the field in the first half, led by Siakam's 10 points.
Toronto used an 8-0 surge to lead by four with 8:07 remaining in the third quarter. Toronto took a six-point lead on VanVleet's 3-pointer with 5:54 to go.
Washington responded with five straight points. The Raptors came back and they led 86-79 when VanVleet hit a 3-pointer to complete the scoring in the third quarter.
--Field Level Media