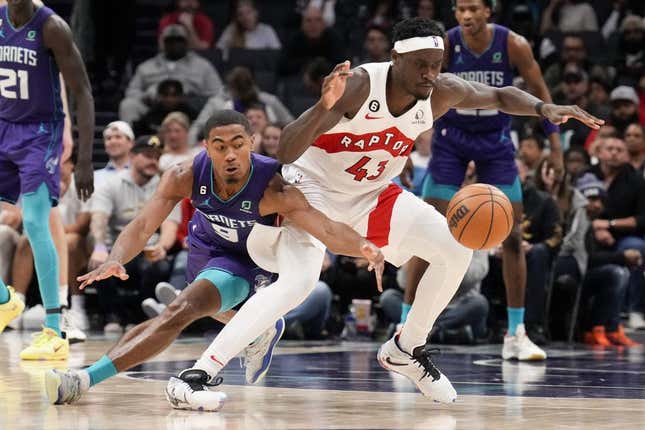 The Toronto Raptors are set to play beyond the regular season, but the improved position when the postseason arrives remains a top priority
Aaron Rodgers should go full Joe Namath | Comedian Bert Kreischer
The visiting Raptors try to bolster their playoff spot when they face the roster-challenged Charlotte Hornets on Tuesday night
This will be a rematch of Toronto's 128-108 victory Sunday afternoon, also in Charlotte. The Raptors aim for a four-game season series sweep after winning twice across three days in January in Toronto
The Raptors (39-39) have secured a spot in the play-in portion of the NBA postseason. Gaining the No. 8 seed would increase the odds of advancing
"For the last couple of weeks, it has been really simple for us -- we're in a win-every-game mode," Toronto guard Fred VanVleet said. "There's not much to think about. You have to go out and perform and play your best and try to take care of business."
The Hornets are playing out the string, but with a bunch of relative newcomers in the lineup it's a chance for them to prove something. Charlotte muddled playoff prospects for Dallas and Oklahoma City recently with upset victories but dealing with the Raptors might be a bigger challenge
"(Toronto is) playing for the playoffs. There are some tough matchups out there," Hornets coach Steve Clifford said. "I'm going to choose to look at the positives. I liked our approach. We were a little slow out of the gate, but we played really hard.
Pascal Siakam scored 36 points on Sunday. He has led Toronto in scoring in all three meetings with the Hornets this season. VanVleet's 20 points and franchise-record 20 assists added to Charlotte's troubles, and dealing with him is something that could be more critical for the Hornets (26-53)
"We've got to be able to find a way to do something with Fred," Clifford said. "He just dominated that game. He just crushed us. Every pick-and-roll, it didn't matter -- angle, high side either scored, got fouled or they got a wide-open shot. We've mixed up the schemes but none of that worked."
VanVleet said he's glad the Raptors took advantage of the situation
"It means we played good and got a win," VanVleet said. "Just really appreciative of the group and the way we played."
With Charlotte's roster reduced because of injuries, the Hornets might need more from Svi Mykhailiuk, who racked up a career-high 26 points Sunday. The other four starters combined for 42 points
Charlotte is without LaMelo Ball, Terry Rozier, Kelly Oubre Jr., Gordon Hayward, Dennis Smith Jr. and, most recently, P.J. Washington.
Among Sunday's starting five for the Hornets, rookie center Mark Williams made his 15th start. The other four starters have made a combined 18 starts this season
The Hornets gave the ball away on 17 turnovers, while Toronto had only seven Sunday
"Got to figure out a way to run offense against them without turning the ball over," Clifford said.
The Raptors look to make a strong push the rest of the way
"My focus has to be on what's good, let's polish that," Toronto coach Nick Nurse said. "Let's really work on that. Keep trying to get these guys to play better at both ends of the floor."
--Field Level Media