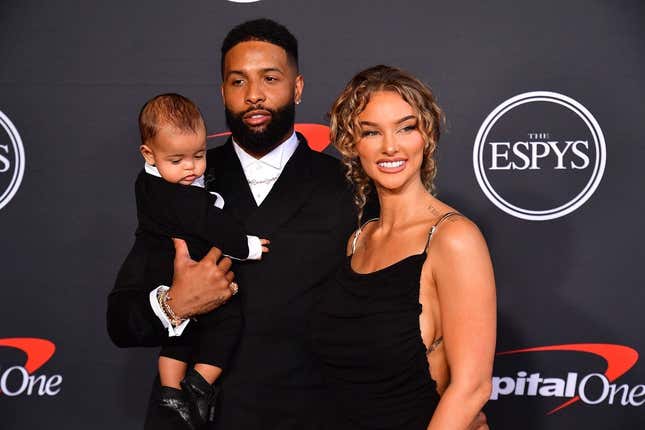 Odell Beckham Jr. joined the Baltimore Ravens with zero assurances from quarterback Lamar Jackson that they'd be teammates
'Soccer fandom is full of gatekeepers' says Ted Lasso actor Brendan Hunt
Beckham, 30, signed his one-year contract with the Ravens on Thursday and is set to return to the NFL after sitting out last season while recovering from a torn ACL
But Beckham doesn't mind sharing that he's hopeful Jackson, unsigned and in a contract standoff with the Ravens, is back with Baltimore soon
They had dinner together after the veteran receiver agreed to a $15 million contract for the 2023 season, Beckham said, but only the "possibility" of sharing the same locker room is on the table as of Thursday.
"It's been more from afar; we haven't kicked it or anything like that. My favorite player growing up was Mike Vick," Beckham said in a video interview with Ravens.com. "He gave me many flashes of it. ... If he was left-handed I think we'd all see it even more. Tremendous talent, tremendous quarterback. Somebody who I look forward to having the opportunity to play for and catch passes from. Somebody I've admired from afar for a long time now.
Beckham said after a workout for NFL teams last month that he's feeling close to full strength. He's 14 months removed from surgery and said the emotional toll of a second major knee injury and surgery was more taxing than the physical recovery.
"Now it's just knowing there's five months to the season, it's nowhere hear I'll be in September," Beckham said.
Ravens general manager Eric DeCosta said he hasn't connected with Jackson since Beckham's deal was announced
"Lamar is in our plans," DeCosta said. "We're hopeful to still get a long-term deal. He's the right player for this team."
Beckham's health is not a concern for the Ravens, DeCosta said, but he didn't address the rumor mill connecting Jackson to the Indianapolis Colts and other QB-needy teams who could make the former MVP an offer at any time
In such a scenario, the Ravens could match. If no offers come from other teams, Jackson has the option to play under the $32.416 million tag or sit out the entire season to protest the tag unless the sides come to agreement on a long-term contract by July 15
--Field Level Media