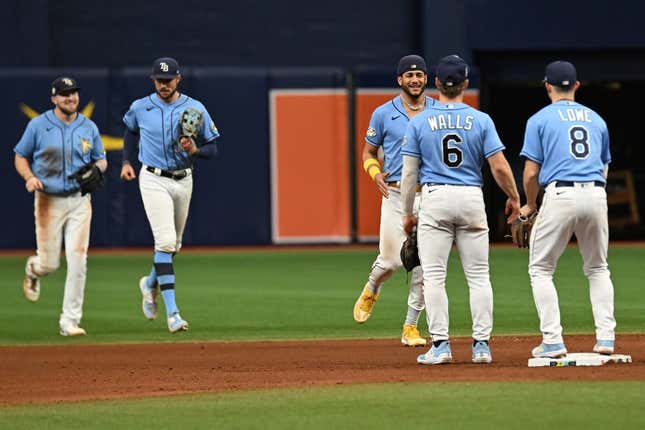 At a time when contenders are watching the scoreboard, the Tampa Bay Rays are keeping things simple.
How running an NFL team is like running a restaurant | Chef Emeril Lagasse
Firmly atop the American League wild-card standings, the Rays (88-56) also are in range of catching the first-place Baltimore Orioles (90-52) in the AL East.
For the Minnesota Twins (75-68), what's in front of them is less complicated. They're in the driver's seat to win the AL Central.
These two likely playoff-bound clubs are set to meet on Monday night in the opener of a three-game series in Minneapolis.
"We've got to go out and take it one day at a time," Rays outfielder Josh Lowe said. "Win one ballgame at a time. We've got to show up and play good team baseball. Do what we do best, and we'll take care of business."
Lowe had a big game on Sunday, collecting three hits in the Rays' 6-3 win over the Seattle Mariners.
Tyler Glasnow (8-5, 2.98 ERA) will start for Tampa Bay on Monday against fellow right-hander Sonny Gray (7-6, 2.98).
Gray has been a steady innings-eater for the Twins, logging at least six innings in each of his last nine starts. In August, the 33-year-old was impressive with a 2.04 ERA in 39 2/3 innings. Gray was not involved in the decision in his last start on Tuesday after allowing three runs in six innings against the Cleveland Guardians.
In 14 career appearances (12 starts), Gray is 4-5 with a 4.29 ERA against Tampa Bay.
Glasnow will look to build upon his win against the Boston Red Sox on Wednesday, when he allowed one earned run on three hits and struck out 14 in six innings.
Glasnow, 30, has 134 strikeouts in 99 2/3 innings this season. He is 5-2 with a 2.20 ERA over his last seven starts overall, and 4-3 with a 3.17 ERA in eight starts on the road this season.
Glasnow has faced the Twins just once in his career, making a three-inning relief appearance in which he gave up one run in a no-decision.
As Tampa Bay pursues Baltimore in the AL East, Minnesota is in a strong position to claim the Central.
Although Twins dropped a 2-0 decision to the New York Mets on Sunday, they have triumphed in three straight series and have won six of their last nine games overall.
Minnesota manager Rocco Baldelli has been pleased with the quality of at-bats, which have led to some big innings.
"It feels like you're capable of pretty much anything when the whole lineup is producing, and having good at-bats, and finding ways to get on base," Baldelli said. "Putting the ball in play when there's people on base can generally lead to things."
It's no coincidence the Twins' offense has started to click with right fielder Max Kepler healthy and productive.
Kepler had a key three-run triple in the seventh inning of Minnesota's 8-4 victory over New York on Saturday.
A left hamstring injury sidelined Kepler early in the season. Now, he has 21 home runs, his highest total since 36 in 2019.
"He's been doing this for us for a while now," Baldelli said. "This isn't like a couple of good-looking weeks. He's having a great season."
—Field Level Media