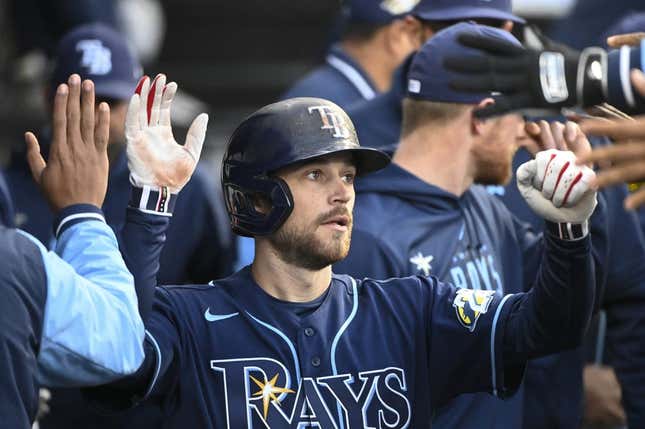 When Zach Eflin was signed by the Tampa Bay Rays to become a part of the rotation's front end, the organization made a major commitment
So far, Eflin is proving worthy of his $40 million, three-year deal, the richest contract Tampa Bay has ever given to a free agent.
The right-hander will get the ball Friday night in Chicago when the Rays face the White Sox in the second game of a four-game series. The White Sox enter on an eight-game losing streak
The two teams will be matching up for the fifth time in eight days. The Rays swept three games against Chicago last weekend in St. Petersburg, Fla
Eflin (3-0, 2.81 ERA) basically is serving as a rotation replacement for Corey Kluber, who signed with the division rival Boston Red Sox.
The former Philadelphia pitcher is posting better numbers than he did with the Phillies over seven seasons, when he went a combined 36-45 with a 4.49 ERA in 127 appearances (115 starts).
Eflin has claimed a victory in each of his three starts for his new team, though a bout of lower back tightness forced him to miss two starts after he beat the Oakland Athletics on April 7.
In his return to action on Sunday, the 29-year-old Orlando native silenced the White Sox over five innings. He allowed one run on five hits while striking out four in the Rays' 4-1 win in the series finale
Across two career outings (one start) against Chicago, Eflin is 1-0 with a 1.29 ERA in seven innings. He has allowed three hits and no walks while striking out six.
His teammates got their bats back on track in the series opener against the White Sox, breaking a two-game losing streak with a 14-5 victory. Tampa Bay posted a season-high run total while collecting 16 hits and three home runs
After the Rays entered the game scoreless over 19 innings, manager Kevin Cash watched his Tampa Bay club transform into an offensive juggernaut again following consecutive shutouts by Houston Astros pitching
Brandon Lowe, Yandy Diaz, Josh Lowe and Luke Raley each had three hits for the Rays on Thursday
"Look, our offense has been really productive over the first month," Cash said. "Quiet nights (like the two against Houston) don't mean things are going sideways."
Chicago manager Pedro Grifol, who was ejected for the first time in his career during the lopsided loss, saw nothing good from his side.
"We didn't play defense today, didn't hit with runners in scoring position," Grifol said. "We didn't do much of anything."
The White Sox are riding the majors' longest active losing streak, and they have been outscored 29-5 in the past three games
In his sixth start of the season, Chicago's Lucas Giolito (1-2, 4.50 ERA) will look to rebound his Sunday loss to Eflin and the Rays. The right-hander surrendered four runs on five hits -- including home runs by Raley and Harold Ramirez -- in seven innings
Giolito has put up strong career numbers against the Rays over seven starts, 2-1 with a 2.70 ERA
Tampa Bay is hitting just .195 against Giolito, making the Rays one of three squads (along with the San Francisco Giants and the Philadelphia Phillies) that he has held to a team batting average under .200
--Field Level Media