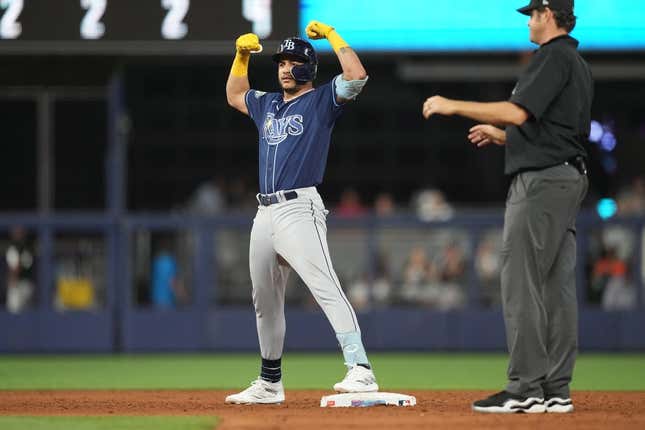 Jose Siri's two-run double in the sixth inning gave Tampa Bay the lead, and the Rays went on to an 11-2 win over the host Miami Marlins on Tuesday night.
How running an NFL team is like running a restaurant | Chef Emeril Lagasse
Jorge Soler, who leads the Marlins in homers (35) and RBIs (71), left the game for a pinch hitter in the seventh inning due to right-hip tightness. After a foul tip, Soler dropped his bat and walked away. He then left the game after talking to Miami's trainers and manager Skip Schumaker.
Isaac Paredes, Randy Arozarena and Josh Lowe homered for the Rays, who are on a 12-4 run, including three straight wins. Paredes had four RBIs.
Jazz Chisholm Jr. slugged a solo homer and added an RBI single for the Marlins, who lost the opener of this two-game series.
Miami's Sandy Alcantara (6-12), the reigning National League Cy Young Award winner, took the loss, allowing seven hits, two walks and four runs in 5 2/3 innings. He struck out four.
Alcantara's ERA rose to 4.23. He went 14-9 with a 2.28 ERA last year.
Aaron Civale (7-3) earned the win, allowing seven hits, no walks and two runs in five innings. He fanned five.
Miami opened the scoring in the first inning on three singles, capped by Chisholm's RBI hit. Luis Arraez and Soler had the other singles.
Tampa Bay tied the score in the second on a rally set up by singles from Lowe and Vidal Brujan. Luke Raley got the RBI on a sacrifice fly.
Miami went up 2-1 in the third on Chisholm's homer on a 2-2 curve at the bottom of the zone. He golfed the pitch 412 feet to center for his 13th homer of the season.
Tampa Bay took a 4-2 lead in the sixth. The rally started with Brandon Lowe's bloop double off the glove of second baseman Arraez, who was in right field when he made contact, barely escaping a collision with the right-fielder Soler.
Paredes then got an RBI single on a full-count slider that was down and away. Paredes won a nine-pitch battle with Alcantara that included four foul balls.
The Rays kept the rally going as Brujan was hit by a pitch, and Siri stroked his two-run double off the top of the wall in left.
Tampa Bay put the game away with four runs in the seventh. Former Marlins outfielder Harold Ramirez had a pinch-hit RBI single, Arozarena slugged a two-run homer, his 21st of the season, and Josh Lowe hit his solo shot, his 18th of the season.
Paredes' three-run homer in the ninth made it 11-2. It was his 27th bomb of the season.
—Field Level Media