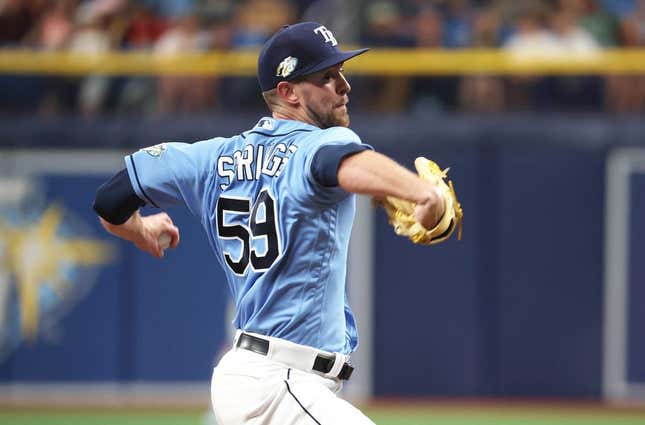 The pressure is mounting on the undefeated Tampa Bay Rays, but no players are giving in just yet -- not even their newest arm they unveiled on Wednesday
'Soccer fandom is full of gatekeepers' says Ted Lasso actor Brendan Hunt
Winners of 12 straight games to open a season, Tampa Bay will attempt to tie the modern major league record of 13 and sweep the Boston Red Sox in a Thursday matinee in St. Petersburg, Fla
Since 1900, the only teams to open 13-0 were the 1982 Atlanta Braves and the 1987 Milwaukee Brewers.
On Wednesday, 22-year-old right-hander Taj Bradley slid into the team's winning streak, which tied the franchise record of 12 set in 2004 by manager Lou Piniella's then-Devil Rays from June 9-22
In the 9-7 victory, Bradley -- the organization's top prospect -- got the decision in his major league debut with five strong innings. He recorded eight strikeouts while giving up three runs on five hits and one walk.
Rays skipper Kevin Cash was impressed by Bradley's poise in handling the pressure of possibly failing to extend the undefeated season
"He might've had so much on his mind he wasn't even aware of (the streak)," Cash said. "There were a lot of pressures. You add in the Boston Red Sox, you add in the streak and you add in him being 22 years old. That's a lot.
Jeffrey Springs (2-0, 0.00 ERA) will take the mound on Thursday contest as the Rays attempt to sweep the four-game series
In 13 scoreless innings against the Detroit Tigers and Oakland Athletics, Springs has allowed just three hits and four walks while striking out 19.
The opposition is hitting a meager .075 against the left-hander, and his WHIP sits at 0.538.
"Yeah, he's on a pretty good run right now," Cash said after the southpaw stymied the A's on Saturday. "His stuff is just really playing well right now."
Across 12 career appearances against Boston, including four starts, Springs is 0-2 with a 3.80 ERA. In 23 2/3 innings, he has 27 strikeouts, and the Red Sox are hitting .242 against him with three homers
Manager Alex Cora saw his Red Sox battle back from two five-run deficits on Wednesday and eventually get the margin to 8-7, but shortstop Bobby Dalbec's fielding error and a poor throw by catcher Reese McGuire cost the Red Sox one run in the first inning
In the fourth, Tampa Bay's second three-run frame, Boston pitcher Chris Sale fielded Vidal Brujan's bunt right back to him, but no one covered first base -- loading the bases with no outs. All three runners eventually scored.
"At this level, if you give them more than 27 outs, they're going to cash in," Cora said. "Routine plays, we didn't make ... that's the part that frustrates me. At this level, you can't do that."
Boston right-hander Corey Kluber (0-2, 6.48 ERA) will get the chance to face his 2022 club for the first time on Thursday. He went 10-10 with a 4.34 ERA in 31 starts for Tampa Bay last season.
In outings against the Baltimore Orioles and Pittsburgh Pirates, Kluber has been roughed up for six runs on nine hits in only 8 1/3 innings, surrendering three home runs.
Kluber, 37, owns a 5-3 record and a 2.98 ERA in 11 career starts against Tampa Bay.
On June 21, 2016, in Cleveland, Kluber authored one of his eight career shutouts in a 6-0 win over the Rays. He allowed just three hits and walked two while fanning nine
--Field Level Media