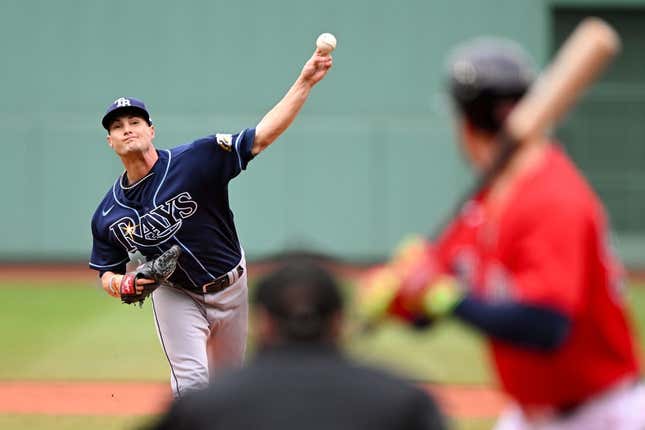 The two winningest teams in the majors will have a rubber match on Sunday.
The Tampa Bay Rays and Texas Rangers have split the first two games of their three-game series in St. Petersburg, Fla
How running an NFL team is like running a restaurant | Chef Emeril Lagasse
It will be a battle of top-tier left-handers, with Tampa Bay sending Shane McClanahan (9-1, 2.02 ERA) to the mound opposite Texas' Martin Perez (6-1, 3.97).
The Rangers are carrying momentum after an 8-4 victory Saturday. Corey Seager led the way with a career day by going 5-for-5 with four RBIs, on a two-run home run and two-run double
"He's pretty good," Rays manager Kevin Cash said in his postgame interview. "He has good at-bats against righties, lefties, fastballs, breaking balls ... it doesn't matter. He got us. He had a good day today.
The Rangers also had multi-hit days from Marcus Semien and Ezequiel Duran. The bullpen delivered 2 2/3 scoreless innings, highlighted by Josh Sborz striking out the side in the eighth
In his last five outings, Sborz has 13 strikeouts to two walks over 7 1/3 innings. He spoke to the Rangers' radio network after Saturday's game, emphasizing the trust everyone in the clubhouse has in each other
"It's a long season. It's really early to start getting tense," Sborz said. "Keep winning, keep our nose down and attack."
Perez enters unbeaten in his last 10 starts. He was impressive on Monday by allowing just one unearned run on three hits with one walk and five strikeouts over seven innings in a no-decision effort vs. St. Louis.
In his career vs. Tampa Bay, Perez is 4-6 with a 5.46 ERA in 18 games, including 15 starts. He is 3-4 with a 7.78 ERA in eight games, including seven starts, at Tropicana Field.
But Perez won both of his starts vs. the Rays last season. He threw seven scoreless innings with five strikeouts in a 3-0 home victory on May 31, and then allowed three runs on nine hits with three strikeouts over 5 1/3 innings in a 4-3 road victory on Sept. 16
McClanahan ranks among the early AL Cy Young favorites as he leads the league in ERA and is tied for the lead in wins with Nathan Eovaldi of the Rangers. McClanahan allowed one run on five hits with five strikeouts over six innings in a 4-1 victory at Boston on Monday
Cash summed up McClanahan's season to date following his last start.
"He's just really good," Cash said. "He's been a good run."
McClanahan will make his first career start vs. the Rangers. In 37 career starts at Tropicana Field, he is 20-8 with a 2.74 ERA
Offensively, Josh Lowe had a two-hit game Saturday for his 18th multi-hit game of the season.
Also, Tampa Bay, which had a seven-game winning streak snapped Saturday, has lost just one series at home this season. The Astros took two of three April 24-26.
--Field Level Media