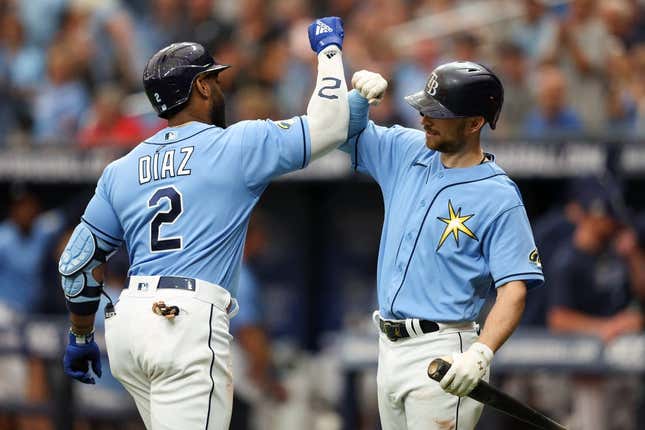 The Tampa Bay Rays will try to solidify their place in history Friday night when they visit the Toronto Blue Jays for the opener of a three-game series
Does Jimmy Butler have the best NBA Finals origin story? | Agree to Disagree
The Rays became the third team since 1900 to win their first 13 games of the season when they defeated the visiting Boston Red Sox 9-3 at St. Petersburg, Fla., on Thursday afternoon
They matched the 1982 Atlanta Braves and the 1987 Milwaukee Brewers, who also opened their seasons 13-0.
The 1884 St. Louis Maroons started their season 20-0.
The Rays also set a franchise record for consecutive wins at any time of a season. They have outscored the opposition 101-30 this season
"Pretty, pretty amazing," Rays manager Kevin Cash said. "Congrats to all of our guys. And I'm glad that we did it at home, because we had tremendous fan support throughout this entire homestand
"No doubt, when you do something like that, you're playing really well and there's not one part of our game right now that we don't feel good about."
Rays second baseman Brandon Lowe, who hit his fifth homer of the season on Thursday, said of going for the modern-era record, "I think it kind of puts a little more spark in our system. Nobody likes a tie
"It's not lost on anybody. We know what's going on here. We understand the severity of everything and how fun it's been' but also we are not worried about the next day."
The Rays were concerned Thursday when starting pitcher Jeffrey Springs left after the third inning due to left arm ulnar neuritis. Tampa Bay soon fell behind 3-1 before responding with a seven-run fifth
Reliever Kevin Kelly, who earned the win, said he was worried.
"Especially when you see Jeffrey leaving the game, you think that is the worst thing that could possibly happen to us," Kelly said. "But guys were also like, 'OK, we're keeping it close, and we have time.' And then boom, we have that huge inning and we just keep going."
Toronto had a three-game winning streak end Thursday night with a 3-1 loss to the visiting Detroit Tigers.
Tampa Bay right-hander Drew Rasmussen (2-0, 0.00 ERA) will oppose Toronto right-hander Jose Berrios (0-2, 11.17) on Friday.
Rasmussen is 1-3 with a 2.33 ERA in eight career outings (seven starts) against Toronto. Berrios is 1-4 with a 5.86 ERA in eight career starts against Tampa Bay.
"(The Rays are) uniquely hot," Toronto manager John Schneider said Thursday. "They're obviously a good team. They're a complete team and I think they're playing a good brand of baseball right now
"It's going to be a fun series. We know how they deploy, how much they match up. It's a credit to what they do, the start they got off to."
The Rays, Blue Jays and New York Yankees are expected to contend for first place in the American League East
"Every game is important, and I think right now, two weeks into the season basically, so many things happen over the course of 162, right?" Schneider said. "You have to win the ones you should win, you have to hold onto the ones you have the lead in and all that kind of stuff.
"You don't look at what other teams are doing per se. You look at what you're trying to do and what you're trying to get better at. That will continue to be the focus."
--Field Level Media