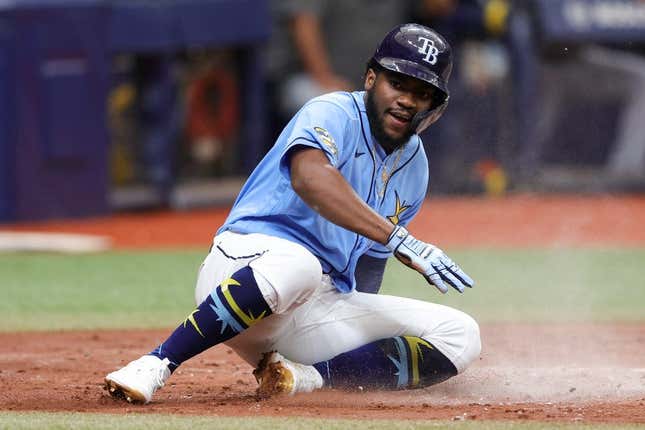 Teams attempting to maintain their grip on wild-card playoff positions duel in a rare head-to-head series when the Tampa Bay Rays and host San Francisco Giants open a three-game set on Monday night
How running an NFL team is like running a restaurant | Chef Emeril Lagasse
The Rays reside in the first wild-card spot in the American League despite having gone just 14-21 since July 1
The Giants are second in the National League chase, although their 3-2 victory in 10 innings over the Texas Rangers on Sunday was just the second win in their last eight games
The clubs are meeting for the first time since the Rays won two of three in San Francisco in 2019. The sweep allowed Tampa Bay to improve to 7-8 in the all-time series that began in 2002
The Rays send Tyler Glasnow (5-3, 3.15 ERA) to the mound on Monday, while the Giants are expected to resort to a bullpen day with fellow right-hander Ryan Walker (4-1, 2.40) getting the nod
Glasnow will be making just his third career appearance (second start) against the Giants. He is 1-0 and has yet to allow a run in eight innings against San Francisco
The 29-year-old California native will be making his first start since July 31, having been scratched from a scheduled outing last Sunday in Detroit because of back spasms. He received a cortisone shot in his back during his time off
"Just needed a little bit of time," he reported after a 15-pitch bullpen session Friday. "I was really encouraged with (Friday's work), just going out and feeling normal and, like, not really knowing how it was going to be on the mound, and it felt fine. It feels good.
Glasnow had pitched well in his last four starts in July, going 3-0 with a 1.67 ERA. He has 32 strikeouts in 27 innings during that stretch
While the veteran has been watching, the Rays have been about as inconsistent as any contender in August. After alternating wins and losses over their first four games, they won two straight, lost two in a row and won two consecutive contests before getting drubbed 9-2 by the Cleveland Guardians in the finale of a six-game homestand Sunday
The Cleveland series had begun in grand fashion, with the Rays recording walk-off wins both Friday and Saturday
If they were tuned into the Giants' series finale against the Texas Rangers during the early stages of their cross-country flight Sunday, they saw more of the same from San Francisco. The Giants were one pitch away from a 1-0 win in regulation, had to rally from behind on a walk-off, two-run homer by Patrick Bailey in the 10th for a 3-2 win
The heroics came moments after a blown save in the ninth and run-scoring balk in the 10th had the Giants on the verge of a potential three-game sweep at the hands of the Rangers
"That would have been a pretty heart-wrenching loss," Giants manager Gabe Kapler said. "It's a great moment of celebration for the clubhouse. They're very happy after a walk-off win. But we still have to come back (Monday) and get ready for the Rays.
Walker will make his ninth start of the season and first career versus the Rays
--Field Level Medi