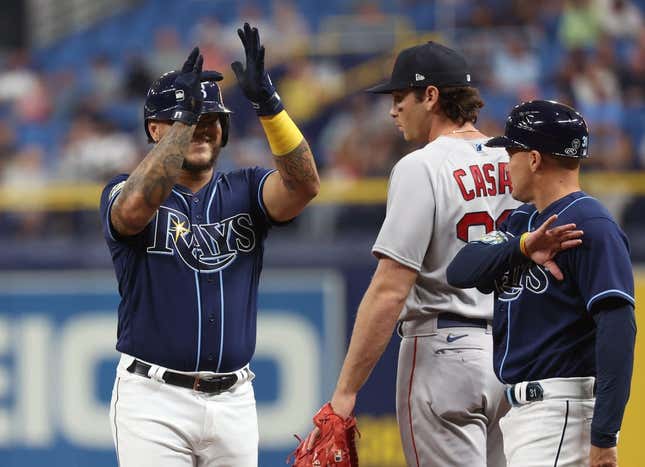 Taj Bradley won his major league debut with five solid innings and the Tampa Bay Rays extended their winning streak to a dozen games with a 9-7 victory over the Boston Red Sox on Wednesday in St. Petersburg, Fla
The Rays' run of 12 consecutive victories to start the season is the third-best mark in major league history, trailing the 13-win streaks turned in by the Milwaukee Brewers (1987) and Atlanta Braves (1982)
Randy Arozarena stroked a three-run homer and had four RBIs for Tampa Bay, and Wander Franco had three doubles, two runs, two RBIs and a stolen base. Christian Bethancourt and Vidal Brujan each went 2-for-3.
With starting pitcher Zach Eflin on the injured list, Tampa Bay turned to 22-year-old right-hander Taj Bradley, the organization's top-ranked prospect.
Bradley (1-0) allowed three runs and five hits while whiffing eight and walking one.
Rays closer Pete Fairbanks tossed a scoreless ninth for his second save
In his third start of the season, Boston's Chris Sale (1-1) was hit hard, yielding six runs (five earned) on seven hits. He fanned six and walked two.
Rafael Devers hit a three-run homer for the Red Sox, and Reese McGuire had three hits and two runs. Alex Verdugo, Justin Turner and Enrique Hernandez went 2-for-4
In his second career start at shortstop, Boston's Bobby Dalbec booted Franco's grounder with one out in the first. Franco then stole second base after a poor throw from catcher McGuire.
Following a walk to Isaac Paredes, Arozarena drove a shot to right field for a three-run homer -- his third long ball and the Rays' majors-leading 30th
In the third, Turner put Boston on the board with an liner to left to score Verdugo, who had doubled.
The Rays answered with their second three-run frame for a 6-1 lead, getting a bases-loaded sacrifice fly from Yandy Diaz and a two-run double from Franco
In the top of the fifth, Hernandez's RBI double and Verdugo's run-scoring single cut the deficit to 6-3 against Bradley.
For the second time, the home side immediately tallied again, managing a run-scoring double by Bethancourt and an RBI single by Brujan for an 8-3 edge against Zack Kelly.
With two outs, the right-handed Kelly hit Diaz with a pitch, then squatted and grabbed his right elbow. Grimacing, he left and was replaced by Ryan Brasier.
An RBI groundout by Raimel Tapia in the sixth and Devers' fifth homer, down the left field line in the seventh, got Boston within 8-7.
Arozarena added a sacrifice fly in the eighth.
--Field Level Media