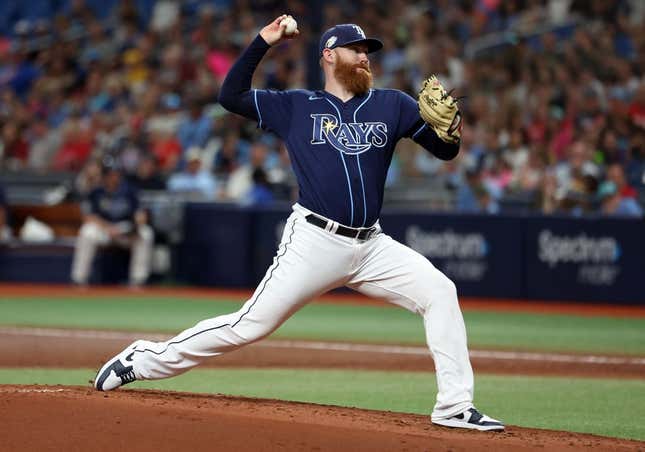 The Tampa Bay Rays began their season-opening 13-game winning streak with three victories over the Detroit Tigers
How running an NFL team is like running a restaurant | Chef Emeril Lagasse
Now, the Rays will look to start a second-half surge -- perhaps without one of their biggest pieces -- when they visit Detroit for three games this weekend, beginning on Friday
Tampa Bay outscored Detroit 21-3 in their first series. The Rays led the American League East Division until they were passed by the Baltimore Orioles on July 20
Ending June, the Rays held a 6 1/2-game lead on the Orioles, but then Tampa Bay lost seven of its eight games heading into the All-Star break. A five-game losing streak from July 16-20 flipped the division to Baltimore
Lately, the Rays have shown signs of regaining some of that early swagger. They won three straight and five of seven before falling to the New York Yankees and ace Gerrit Cole 7-2 on Wednesday
Still, they are not without worry. A potentially bigger loss for the Rays is their ace, Shane McClanahan, who experienced tightness in his left forearm
"I'm not going to speculate. I'm not going to make any assumptions," McClanahan said. "We're just going to take it day by day and see what comes up.
Luke Raley's availability for the Tigers series also is in question. The first baseman/outfielder, who has 15 home runs on the season, suffered a right knee contusion on a foul ball
"When he hit it, I knew that was really painful," manager Kevin Cash said. "He was in a lot of pain, and for him to come out of the game -- Luke's about as tough as anybody that we have on the club.
Zack Littell (1-2, 4.85 ERA) is scheduled to start for the Rays on Friday. The 27-year-old right-hander has been a reliever most of his career
He collected his first victory in eight career starts when he pitched five innings in an 8-2 win against Houston on Sunday. He gave up two runs and eight hits but didn't issue a walk
"I'd like to. Obviously I've had the conversations with them," Littell said of staying in the rotation. "This was kind of a move out of necessity, but I think I'm absolutely capable of doing it and I've enjoyed the process so far, so we'll see.
The Tigers have lost six of their past eight games but one of those wins came on Wednesday in a 6-3 win over Pittsburgh. Zack Short and Jake Rogers, who began the game on the bench, wound up driving in four of those runs
"We are trying our best to line everybody up in the best situations imaginable," manager A.J. Hinch said. "We're not going to be perfect with what we do and the players aren't going to be perfect with the results. But it's been a season-long effort to get everybody ready for any situation .It's nice when it works out.
Friday begins a seven-game homestand for the Tigers
Rookie Reese Olson (1-4, 4.71) will start the series opener. Olson gave up four runs and eight hits in six innings last Friday in Miami but didn't figure into the decision in the 6-5 loss. He allowed the four runs during the first three innings
"To give up four and then settle down and get through six innings, give us a little length and not stress the bullpen too much -- I'm pleased I was able to do that," he said. "Just those first few innings were tough.
Olson has allowed four homers in his last three outings
--Field Level Medi