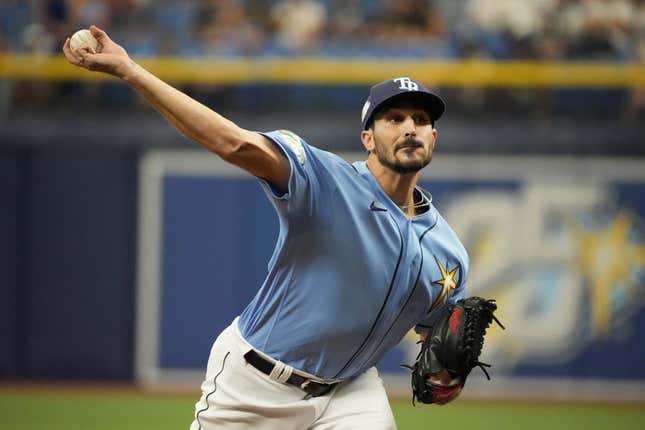 The Tampa Bay Rays are 20 games over .500, the best record in the majors. Still, they are playing with a sense of urgency
Bass' ERA stinks, but not compared to who he is off the mound | Worst of the Week Countdown
"Three in a row is not something we ever want to look at," closer Pete Fairbanks said of possibly dropping three straight games for the first time this season going into the Rays' three-game series with the Milwaukee Brewers
Tampa Bay responded with a 1-0 win on Friday night in St. Petersburg, Fla., setting up a chance to clinch the series on Saturday afternoon.
"It's a good step moving forward into the week, back at home," said Fairbanks, who picked up his fourth save on Friday.
The Rays, who just completed a 4-6 road trip, are facing a Brewers team that has been shut out in two straight games
On Friday night, Milwaukee went 0-for-9 with runners in scoring position.
The Rays will send right-hander Zach Eflin (5-1, 3.38 ERA) to the mound on Saturday. The Brewers will counter with left-hander Eric Lauer (4-4, 4.54)
A free agent addition in the offseason, Eflin has come as advertised with Tampa Bay winning six of his seven starts.
In his latest outing, Eflin struck out nine in six innings while beating the host New York Yankees on Sunday. He surrendered four runs, but the Rays rallied for an 8-7 win, powered by Taylor Walls' grand slam
Tampa Bay was looking for innings from Eflin in that start because of a taxed bullpen.
"I thought he was really good," Rays manager Kevin Cash said of Eflin. "I told him that was a pretty gutsy performance because he knew where the bullpen was, and the status of it. We needed him to find a way to get through that sixth, and he did.
The last time Eflin faced the Brewers, he was with the Philadelphia Phillies. On June 9, 2022, the right-hander gave up one run in four innings. For his career, Eflin has made five starts against Milwaukee dating back to 2018, going 2-2 with a 4.18 ERA
Lauer's most recent start came on May 9, when he failed to complete four innings in a 6-2 loss to the visiting Los Angeles Dodgers. It capped a run of three starts in which he lasted a total of 11 1/3 innings while posting a 5.56 ERA.
Manager Craig Counsell skipped Lauer in the rotation, with no stated time when he would return. Lauer likely raised his stock on Sunday, when he pitched 5 1/3 innings of two-run relief as the Brewers defeated the visiting Kansas City Royals 9-6
Lauer acknowledged afterward it was just what he needed.
"Overall, it was a good job of kind of what I wanted to go out there and feel, as far as just getting on the mound, competing and just kind of letting it loose and not worrying about how long I'm going to be in there and how many pitches I'm going to have to throw," he said. "It's that bullpen kind of mentality that I have to have. It was a good flip-switch for me."
Lauer has faced the Rays twice previously, producing no decisions and a 5.79 ERA in 9 1/3 innings. The most recent of those games was on June 29, 2022, when he surrendered three runs on six hits and two walks in 4 1/3 innings of a game the Brewers won 5-3 in St. Petersburg
--Field Level Media