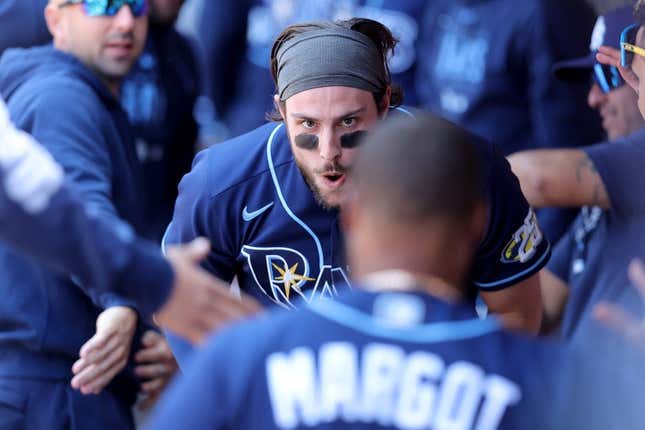 No longer can you say Tampa Bay Rays outfielder Josh Lowe is simply off to a hot start
Is Texas or Florida State a bigger national title contender? | Agree to Disagree
There's a big enough sample size to claim the 25-year-old is scratching the surface toward becoming a solid big leaguer.
The Rays hope Lowe stays hot when they open a four-game series against the Toronto Blue Jays on Monday in St. Petersburg, Fla
Lowe had three hits, including a three-run home run, and four RBIs in the Rays' 6-4 loss to the Milwaukee Brewers on Sunday
For the season, the left-handed-hitting outfielder is batting .318 with 11 home runs, 34 RBIs and nine stolen bases.
"It's not just a hot start any more, he's having a really solid season," Rays manager Kevin Cash said. "He's putting together good at-bats, he's making adjustments.
As a rookie in 2022, Lowe showed promise but was inconsistent -- batting .221 in 52 games.
"I'm just trying to maintain this and do what I can every day to just keep in my routine, and go out there and have good days," Lowe said.
Tampa Bay first baseman Yandy Diaz is riding a 14-game hitting streak.
The Rays look to bounce back from Sunday's loss on Monday with left-hander Josh Fleming (0-0, 3.68 ERA) getting the start
With the rotation short-handed due to injuries, the 27-year-old Fleming will be used as an opener. This will be the southpaw's 10th appearance and third start. For his career, Fleming is 2-1 with a 3.97 ERA against the Blue Jays
The Blue Jays have lost four straight and six of their last seven. They went 4-6 in their homestand against the Atlanta Braves, New York Yankees and Baltimore Orioles
Toronto suffered an 8-3 loss in 11 innings on Sunday against the Orioles.
"It's the tough part of the schedule," Jays manager John Schneider said. "We knew that when we saw it. We knew it months ago. It is what it is. It's not
going to get any easier. Every team in the league is good. So it doesn't matter if you're playing a team in the AL East, AL Central or AL West, every night is going to be a battle."
In the series opener, the Blue Jays are starting veteran right-hander Chris Bassitt (5-2, 3.05)
Bassitt has been on a roll, coming off seven shutout innings, with seven strikeouts in a no-decision against the New York Yankees. He is riding a 27-inning scoreless streak.
The Blue Jays won that game over the Yankees, 3-0, in 10 innings
Bassitt fought through against the Yankees while dealing with a sinus infection.
"I basically was trying to pitch like a zombie," Bassitt told reporters after that game.
In his last seven starts, the 34-year-old is 4-1 with a 1.54 ERA, including a complete game on May 12 against the Atlanta Braves, when he allowed just two
hits.
While Bassitt is in his ninth big league season, the veteran has not faced the Rays much. In three appearances, with two starts, he is 0-1 with a 2.30 ERA in 15 2/3 innings
The last time Bassitt faced the Rays came on April 29, 2021. Then with the Oakland A's, the right-hander gave up two runs in six innings
The series at Tampa Bay is a homecoming for Blue Jays outfielder Kevin Kiermaier, a former longtime standout for the Rays
--Field Level Media