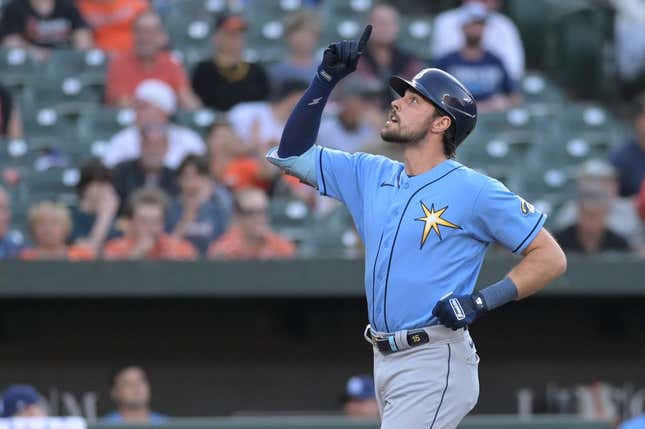 Just how dominant have the Tampa Bay Rays been? Well, they have as many shutout wins as overall losses entering Tuesday, when they continue their three-game series with the host Baltimore Orioles
Air Jordans are more American than McDonald's French fries | Deon Cole's Ultimate Sports Fantasy
The Rays received solo homers by Josh Lowe and Luke Raley and six scoreless innings by Shane McClanahan to earn a 3-0 victory over Baltimore on Monday. It was Tampa Bay's seventh shutout win of the season, improving the Rays to a major-league-best 29-7
The Orioles, who have dropped three straight games, had no answer for McClanahan (7-0), who allowed just four hits with seven strikeouts and four walks to become the season's first seven-game winner
"We put a couple of rallies together, we just didn't get the big hit," Baltimore manager Brandon Hyde said. "When you're facing somebody like that, I thought we grinded. We just had a tough time against him. We just didn't get that big hit with runners in scoring position."
Baltimore went 0-for-6 with runners in scoring position and got a runner past second base just twice. The Rays' trio of relievers -- Colin Poche, Kevin Kelly and Jason Adam -- allowed just three hits to go along with six strikeouts over the final three innings
The Rays, who are seeking their 10th win in their past 12 games, will look to take the three-game series behind Zach Eflin (4-0, 2.25 ERA) on Tuesday. The right-hander allowed just three hits to go along with 10 strikeouts and no walks over seven innings of a 3-2 win over the visiting Pittsburgh Pirates last Thursday
Eflin hasn't faced the Orioles since he was a member of the Phillies during the 2020 season, when he allowed four runs on seven hits with 10 strikeouts and a walk in a 5-4 loss
The Rays are counting on a long outing from Eflin considering their bullpen is in flux after left-handed reliever Garrett Cleavinger was put on the 15-day injured list on Monday with an apparent right ACL injury
Cleavinger, who is 1-0 with a 3.00 ERA in 15 appearances, hurt his knee during a rundown in Sunday's win over the New York Yankees.
The Rays recalled right-hander Trevor Kelley from Triple-A Durham to replace Cleavinger, who could be lost for the season, according to Tampa Bay manager Kevin Cash
Tampa Bay also has four other relievers who are out with injuries -- Pete Fairbanks (right forearm inflammation), Andrew Kittredge (right elbow surgery), Shawn Armstrong (neck tightness) and Jeffrey Springs (left elbow flexor strain).
"The guys down there have done a good job kind of holding the fort down, knowing that we're battling through some injuries," Cash said. "This one is a little different in the fact that there's not too much optimism to get him back any time soon."
The Orioles, who lost a series opener for the first time this season after winning their first 11, will counter with rookie right-hander Grayson Rodriguez (1-0, 5.46)
Rodriguez did not earn a decision after getting rocked for six runs on eight hits with three strikeouts and a walk in just 3 2/3 innings in a 13-10 win over the host Kansas City Royals last Thursday. He has never faced the Rays
--Field Level Media