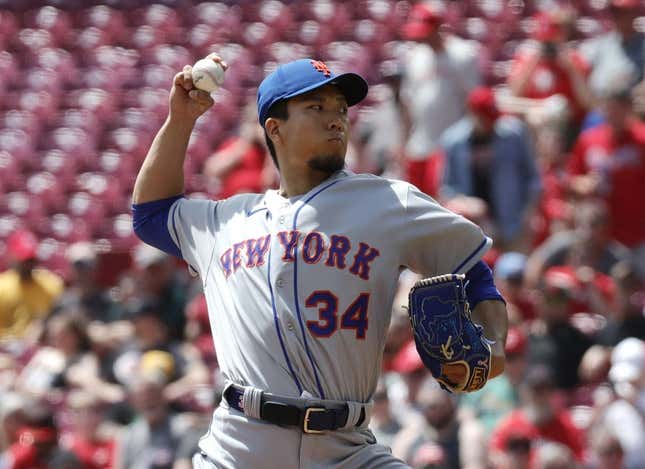 Justin Verlander hoped he could provide a much-needed boost to a flagging team in his home debut Tuesday night for the New York Mets
On Wednesday, he will watch from the dugout, hoping the closest pitcher the Mets have to a reliable starter this season can be the one to help New York begin snapping out of its alarming skid
Right-hander Kodai Senga will look to provide the Mets some much-needed length and efficiency Wednesday night when New York hosts the Tampa Bay Rays in the middle game of a three-game interleague series
Senga (4-2, 4.14 ERA) is slated to oppose Rays left-hander Josh Fleming (0-0, 4.26)
Verlander served up a pair of homers to Isaac Paredes on Tuesday night as the Rays beat the Mets 8-5
The loss was the 11th in 16 games this month for the Mets, who squandered another rare offensive outburst Tuesday night. New York has been outscored 84-57 in May and is just 2-5 when scoring five or more runs
Verlander gave up six runs in five innings Tuesday as the ERA for Mets starters this month rose to 6.46. New York pitchers have authored just two quality starts this month. Senga tossed six scoreless innings in a 1-0 win over the Colorado Rockies on May 5, and Verlander gave up one run in seven innings during a 2-1 victory over the Cincinnati Reds on May 10
"I was hoping that today I could be a catalyst -- go out, have a great start against a good team and help us win," said Verlander, a three-time Cy Young Award winner who signed a two-year deal with the Mets last December but missed the first five weeks of the season due to a teres major strain
"I wasn't able to do that. On to the next guy. And I know that everybody in here is working their (rear ends) off to do just that."
Passing the baton to the next guy hasn't been a problem for the Rays, who improved to 32-11 while hitting three more homers on Tuesday. Tampa Bay increased its major-league-leading total to 84 round-trippers -- 13 more than the Atlanta Braves and Los Angeles Dodgers, who are tied for second
Tampa Bay has hit at least three homers in a game 14 times this season -- one more time than it did all of last season.
Eleven Rays have hit at least five homers -- a group joined Tuesday by Paredes, who has now gone deep six times, and Jose Siri, the ninth-place hitter whose sixth-inning solo shot exited Citi Field at a 113.7 mph
"It's pretty cool to watch," said Rays left-hander Jalen Beeks, who served as an opener Tuesday and tossed two scoreless innings. "You feel like every game we are going to hit three or four home runs. That's just the expectation because these guys are so good. They are on a roll.
Senga, the only projected member of the Mets' Opening Day rotation to make every scheduled start this season, took a loss on Thursday when he gave up five runs over five innings as New York fell 5-0 to the Reds. He has never opposed the Rays
Fleming, who will be making his second start of the season, last pitched Friday, when he gave up one run over four innings as the Rays' bulk reliever. He didn't factor into the decision in a 6-5 loss to the New York Yankees
Fleming is 2-0 with a 1.13 ERA in two career games (one start) against the Mets
--Field Level Media