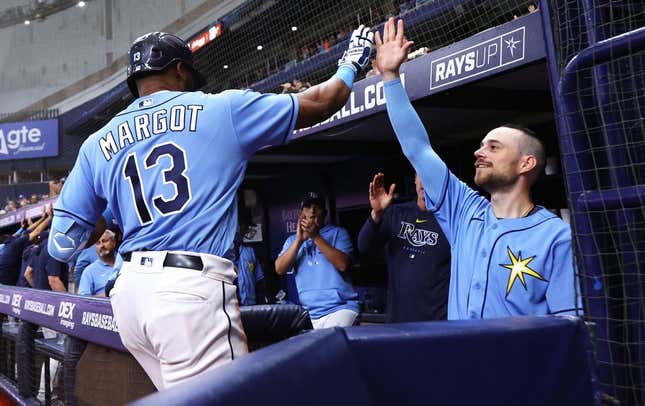 The streaking Tampa Bay Rays have swept aside everything in their path to open the 2023 season
'Soccer fandom is full of gatekeepers' says Ted Lasso actor Brendan Hunt
The Rays have won all eight of their contests so far, and they can tie the 2003 Kansas City Royals for the hottest start in the MLB wild-card era with another victory Sunday against the Oakland Athletics in St. Petersburg, Fla
The Rays enter the game with a plus-46 run differential after winning their first eight games by four runs or more
That run differential through eight games is the largest in the modern era of MLB, eclipsing the plus-40 marks recorded by the 1955 Chicago White Sox and tied by the 1999 Cleveland club.
The Rays also are on their longest winning streak since May 2021, when they won 11 games in a row
Tampa Bay has outscored its opponents 64-18 in their season-starting blitz -- although they've faced the Detroit Tigers, Washington Nationals and the A's, teams which combined for winning percentage of just .372 in 2022.
"You never set your expectations this high," Tampa Bay hitting coach Chad Mottola told Tampa Bay's WDAE radio. "But our hitters are feeding off of each other right now.
"They're getting better pitches to drive and accepting the walks when they're given. Things are definitely clicking right now."
The Rays hit three more home runs Saturday in their 11-0 rout of Oakland, giving them 21 for the young season. When slugging second baseman Brandon Lowe connected for a three-run shot in the sixth inning Saturday, he became the 11th Ray to go deep in 2023
"That goes to show that everyone one-through-nine has been driving the ball," Mottola said. "But it's a bit surprising when a guy with that much power (Lowe) is our 11th guy to hit a home run."
Right-hander James Kaprielian (0-0, 9.00 ERA) -- a former first-round pick of the New York Yankees -- will take the ball as the A's hope he can slow Tampa Bay's juggernaut offense.
"Next man up," Oakland manager Mark Kotsay told A's Cast. "We've got a lot of young arms, and it might take some time for those young arms to reach their maturity."
In his most recent start, on April 3, Kaprielian was tagged for five runs on seven hits in five innings in a wild 12-11 loss against the Cleveland Guardians.
The A's have started by losing two of three games to both the Los Angeles Angels and the Guardians before dropping the first two games of this series against Tampa Bay.
Drew Rasmussen (1-0, 0.00), a right-hander, will start for the Rays on Sunday. He held the Nationals to two hits over six shutout innings with seven strikeouts and no walks in a 6-2 win on April 3
In his only career start against Oakland, Rasmussen earned the victory on May 2, 2022, giving up one run and throwing five innings of one-hit ball.
--Field Level Media