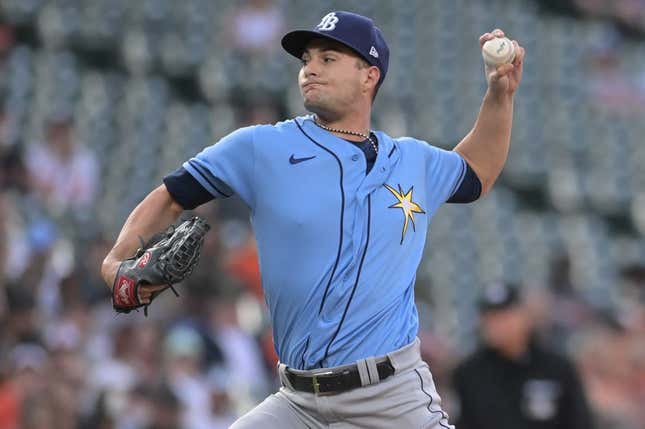 For the first time this season, the Tampa Bay Rays find themselves in an unfamiliar position -- they are actually experiencing some adversity
How running an NFL team is like running a restaurant | Chef Emeril Lagasse
After a disappointing 4-6 road trip, the Rays are looking to regroup Friday night as they open a three-game series with the Milwaukee Brewers in St. Petersburg, Fla
"We just have to move on," Rays outfielder Josh Lowe said. "We'll come out (Friday) and get back after it.
The Rays dropped two of three at the New York Mets, including a 3-2 setback on Thursday afternoon. Lowe was a bright spot at the plate, collecting a double and home run
"I'm just trying to stay within myself," Lowe said postgame Thursday. "Like I've been saying all year -- just get good pitches to hit, and putting good swings on those pitches over the plate."
Tampa Bay opens a 10-game homestand after being on the road for 10 days.
Shane McClanahan (7-0, 2.34 ERA) will be on the mound for the Rays. The left-hander has never faced Milwaukee
The Brewers will turn to right-hander Adrian Houser (0-0, 5.19), who has never pitched against Tampa Bay
Losing close ones was the story for the Rays on the road. They dropped five by one run and the other by two
"Two or three games didn't go our way," manager Kevin Cash said. "We were close in a couple, but close doesn't necessarily cut it."
In recent games, Tampa Bay witnessed one of its top players start to snap out of a slump. Brandon Lowe entered the series with the Mets in a 4-for-48 skid, but in the first two games at New York, he went 4-for-8 with a home run.
For Milwaukee, Houser opened the season on the 15-day injured list due to a right groin strain, and he made his season debut on May 7. This will be his third start, and he has yet to complete five full innings. In his first outing, he worked 4 2/3 innings, and he went four innings in his last outing, a no-decision against the Kansas City Royals.
The Brewers head to Tampa Bay after dropping two of three at the St. Louis Cardinals. The club had a day off Thursday, which gave them a chance to regroup
Against the Cardinals, the Brewers scored four runs in three games, and endured a tough 18-1 loss on Monday. After pulling off a 3-2 win on Tuesday, Milwaukee was blanked 3-0 on Wednesday
"They outplayed us," Brewers right-hander Corbin Burns told MLB.com. "They smacked us around the first night, we responded well (on Tuesday) night and then we came out and played flat.
Milwaukee played its last two games without Christian Yelich, who has been dealing with a stiff back.
The Brewers, one of the serious contenders to win the National League Central, have been like many of the anticipated favorites this season. They haven't put it all together yet
"We have stretches where we play really well, and then we have stretches where we come out and play flat and lose some series that we probably shouldn't lose," Burns said. "We'll regroup. We have an off day and then get after it with (the Rays), on paper the best team in baseball.
--Field Level Media