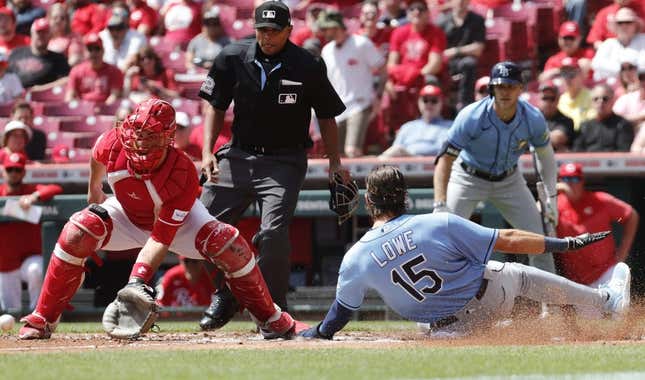 Yandy Diaz's leadoff home run ignited a six-run first inning and Drew Rasmussen tossed five shutout innings to lead the visiting Tampa Bay Rays to their second straight shutout win, 8-0, over the Cincinnati Reds on Wednesday afternoon
Bass' ERA stinks, but not compared to who he is off the mound | Worst of the Week Countdown
Randy Arozarena had three hits and Rasmussen (3-1) limited the Reds to three hits while striking out seven to earn the win
After winning the series opener, 8-1, the Reds were outscored 18-0 in the final two games
The Rays rebounded to claim just their third-ever series win over the Reds and second in Cincinnati
Tampa Bay pitching has tossed shutouts in six of its major league-leading 16 wins.
The Rays made Levi Stoudt's major league debut a nightmare, scoring six runs on seven hits in the opening inning off the Cincinnati right-hander
Diaz crushed Stoudt's third pitch 393 feet into the seats in left for his team-leading sixth homer and a 1-0 Rays lead. The homer -- clocked at 114.5 mph -- also extended to 19 games Tampa Bay's streak with at least one homer to start the season, one shy of the MLB record held by the 2019 Seattle Mariners
Five of the next six batters collected base hits off Stoudt. The sixth run of the inning scored on a balk when Stoudt failed to inform the umpiring crew that he was pitching from a hybrid stance with a runner on third base. As a result, Margot was awarded home for a 6-0 lead.
Reds manager David Bell came out to receive an explanation. Eight innings later, Bell was ejected by home plate umpire Erich Bacchus with two outs in the bottom of the ninth
Stoudt (0-1) settled down to allow just one more run over the next three innings, finishing his day allowing seven runs on nine hits, with three strikeouts and one walk.
The Reds had their best threat against Rasmussen in the fifth when Stuart Fairchild walked and Jose Barrero singled to start the inning. Luke Maile grounded into a 6-4-3 double play. Following a walk to Jonathan India, TJ Friedl grounded out to keep Rasmussen's shutout intact
--Field Level Media