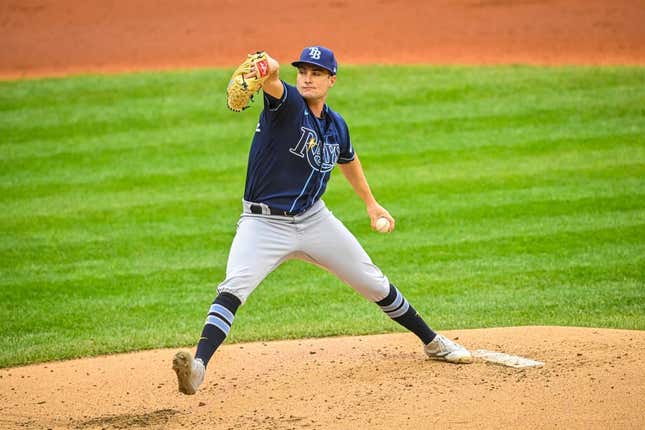 After feasting on inferior competition over the first three series this season, the Tampa Bay Rays played a rival American League East opponent for the first time on Monday
'Soccer fandom is full of gatekeepers' says Ted Lasso actor Brendan Hunt
The result was the same against the Boston Red Sox, but it was Rays manager Kevin Cash's club's toughest work of the season and the first time the Rays did not win by at least four runs
The two teams will meet for the second time in their four-game series Tuesday night in St. Petersburg, Fla.
In a scoreless game in the eighth, Brandon Lowe slugged a solo shot to secure the Rays' 10th consecutive win -- the franchise's best start ever to a season -- in the 1-0 triumph
It's the first time since 1987 that a club has started a campaign with 10 straight victories.
"Every single time we play Boston, they always play us really tough," said Lowe, who is 4-for-9 with three homers and nine RBIs in his past three games. "We always have really good games against them. We knew this one would be a battle."
This season's new schedule format means clubs in the same division will play six fewer times during the regular season.
"It definitely felt like a Rays-Red Sox game. I'm glad we're not playing them 19 times," Cash said
Left-hander Shane McClanahan (2-0, 1.50 ERA) is one of four Tampa Bay starters with wins in both of his starts, along with newcomer Zach Eflin, Jeffrey Springs and Drew Rasmussen.
McClanahan -- considered the club's staff ace and the AL's starting pitcher last season in the All-Star Game in Los Angeles -- has rock-solid numbers through 12 innings so far as he prepares to face Boston.
In victories over the Detroit Tigers and Washington Nationals, he allowed two runs and nine hits. He has 12 strikeouts and five walks, with the opposition hitting .214 against him.
Across five career starts against Boston, he is 3-1 with a 2.45 ERA over 29 1/3 innings. Hitting only .222 against the lefty, the Red Sox have produced just three doubles and one homer while striking out 31 times
Boston produced only three hits in Monday's defeat but got a strong pitching performance from starter Nick Pivetta, who tossed five scoreless innings and gave up just three hits.
"I think overall it was a good baseball game -- they pitched well, we pitched well," Boston manager Alex Cora said. "It was good defense. Obviously, we didn't win the game, but as far as the game, it was great. ... Credit to them."
Before the game, Cora said outfielder Adam Duvall --- injured Sunday against Detroit while diving for a catch -- has a fractured left wrist and is out indefinitely, but he added some good news.
"Just a fracture, that's it. So we're thrilled, no surgery," said Cora. "Now it's just put a cast on and then let it heal. He'll be back whenever he's ready."
Fresh off a strong rehab outing Thursday at Double-A Portland, right-hander Garrett Whitlock will make his season debut for Boston on Tuesday.
Whitlock underwent right-hip surgery last September and started this season on the injured list.
In six career appearances (one start) against the Rays, he is 1-1 with a 3.00 ERA in 12 innings
Entering his third season, Whitlock is 12-6 with a 2.73 ERA in 77 appearances (nine starts). He has eight saves.
--Field Level Media