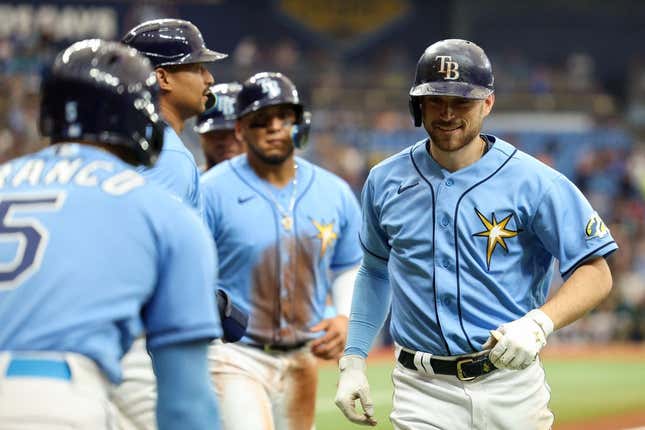 Tampa Bay's Brandon Lowe drove in the only run with a late homer to lead the Rays -- the major league's only unbeaten club -- to their 10th consecutive win, beating the Boston Red Sox 1-0 on Monday night in St. Petersburg, Fla
In the eighth inning, Lowe, who went 1-for-3 with a walk, stroked a one-out, 96 mph middle-in fastball off Chris Martin (0-1) on a full count to right-center for the game-winning shot.
His third homer and ninth RBI traveled 404 feet with an exit velocity of 107.9 to put the home side in position to win again.
One on five pitchers who combined on the three-hit shutout, reliever Josh Fleming crafted four shutout innings, striking out five and yielding one hit after entering in the third.
Colin Poche (1-0), the Rays' fourth pitcher, got the win with a scoreless eighth inning that featured Boston's only inning putting runners in scoring position
Closer Pete Fairbanks pitched a perfect ninth for his first save as Rays pitching recorded its third consecutive shutout and extended its scoreless inning streak to 27
Tampa Bay produced five hits, including Luke Raley's double.
Boston starter Nick Pivetta spun five scoreless innings before turning the duties over to the bullpen.
After Jalen Beeks yielded just a single over two scoreless innings as the Rays' opener, fellow left-hander Fleming entered the game and was as masterful right away as Pivetta was
The Boston hurler used a sharp curveball and cutter to keep the Rays, who entered the game with a majors-best 24 home runs, at bay through five frames
Outscoring the opposition 75-18 through those nine victories, Tampa Bay's high-powered offense mustered just three hits and two walks against the right-hander and went 0-for-6 with runners in scoring position.
Against Poche in the eighth, Boston loaded the bases with two outs on a pair of walks and a pinch-hit single by Bobby Dalbec.
But the lefty bore down on Rafael Devers on an 0-2 pitch with a fastball and got him looking -- Devers' third time striking out -- to end the game's best and Boston's only threat.
--Field Level Media