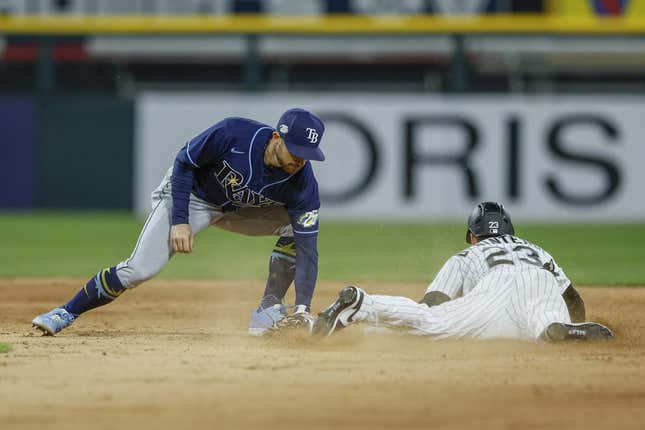 Assured of taking the season series from the slumping Chicago White Sox, the visiting Tampa Bay Rays will aim to remain perfect against Chicago on Saturday night
'Soccer fandom is full of gatekeepers' says Ted Lasso actor Brendan Hunt
The White Sox have lost a major league-worst nine consecutive games, with five defeats during that slide coming against the Rays
Tampa Bay outscored Chicago 16-11 to secure a three-game sweep last weekend in Florida and has continued the momentum. The Rays romped past Chicago 14-5 in Thursday's series opener before winning 3-2 on Friday night
Isaac Paredes connected for a go-ahead solo home run in the ninth inning on Friday to provide the difference. Tampa Bay has homered in each of its 11 road games this season.
Paredes and Manuel Margot each had three hits and an RBI for the Rays, who have won eight of their past 10
The White Sox and first-year manager Pedro Grifol, meanwhile, are searching for their first victory since a 3-0 shutout of Philadelphia on April 18 and have not won two games in a row this season
"To be honest, we are in the midst of everybody learning a whole new way of going about things in this organization," Chicago right-hander Lance Lynn said. "Coaches, staff and everything. And guys are taking the right steps. The problem is it hasn't clicked. We've been in games against good teams and just didn't finish them. Whether it's losing at the end, not winning in extras, just things like that."
Fellow starter Lucas Giolito, who pitched 6 2/3 innings of two-run ball Friday, expressed frustration of his own.
"I hate losing," he said. "It [stinks]. There aren't too many words to describe it. ... I have faith in these guys, faith in myself. We've just got to try and put it together."
Lynn (0-3, 7.52 ERA) will oppose Rays right-hander Calvin Faucher (0-1, 5.68) on Saturday. Tampa Bay manager Kevin Cash is set to employ Faucher as an opener, giving the bulk of the innings to another righty, Yonny Chirinos
Chirinos is slated to make his fourth appearance of the season and first start. He pitched three perfect innings Sunday in a 4-1 win against the White Sox
"That's as good of stuff as we've seen from him since coming back from injury [last season]," Cash said.
Chirinos is 0-1 with a 0.00 ERA in three career appearances against the White Sox, including one start, with one unearned run allowed in 13 1/3 innings
Winless in five starts, Lynn has taken the loss in his past two outings, including Monday at Toronto, when he allowed five hits and four runs in five innings with three walks and four strikeouts. Lynn has yielded seven home runs in 26 1/3 innings.
Faucher has a 9.00 ERA with three strikeouts in two appearances against the White Sox. He started against them on April 21 and was roughed up for three runs on five hits in two innings
Lynn is 1-2 with a 3.27 ERA in seven career appearances against the Rays, including six starts
Rays closer Pete Fairbanks was removed from Friday's game after recording two outs and allowing two runners in the ninth inning. Cash said it was a precautionary measure as Fairbanks experienced a recurrence of Raynaud's syndrome, which causes fingers to feel numb in cold weather
--Field Level Media