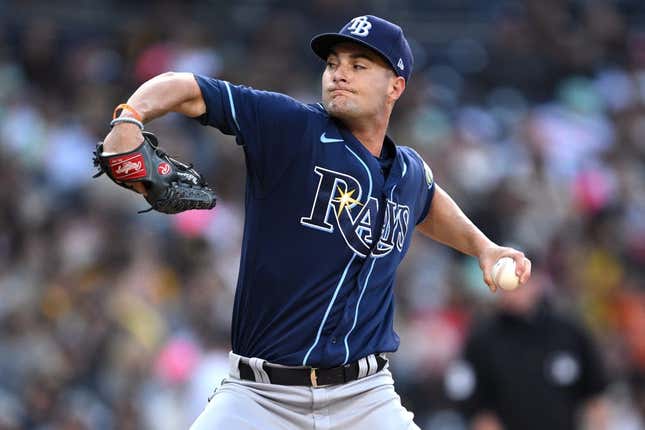 The Tampa Bay Rays obviously were concerned when ace Shane McClanahan left his last start with mid-back tightness
How running an NFL team is like running a restaurant | Chef Emeril Lagasse
But it appears those fears were unfounded.
McClanahan (11-1, 2.23 ERA), who leads the major leagues in victories and ERA, is scheduled to return to the mound Friday night when the Rays open a three-game series at slumping Seattle. McClanahan is 1-0 with a 2.38 ERA in two career starts against the Mariners
"I feel good. I feel ready to go," McClanahan said Thursday before the Rays posted a 6-1 victory over the Arizona Diamondbacks in Phoenix. "Definitely a wake-up call. Might have needed to hammer out some more stuff in the training room, address some stuff. And I'm glad I had this opportunity now rather than later. ... Threw my normal side, lifted, ran, did everything normal and routine, and (I) mixed in with some really good treatment. Feel like I'm in a good spot.
McClanahan pitched 3 2/3 innings against the visiting Kansas City Royals on June 22 before leaving the game. The left-hander's next turn normally would have come Wednesday, but the Rays -- who have the best record in the majors at 56-28 -- decided to give him a couple of extra days' rest
"He felt really good," Rays manager Kevin Cash said. "So he will just be pushed back two more days. Totally out of (caution) for us. He's pretty adamant that he felt great and he's ready to go, but we just felt like with the workload to date, where he's at, (extra rest) is not the worst thing in the world.
Thursday's victory, in which Luke Raley homered, Wander Franco went 2-for-5 with a triple and two RBIs, and Josh Lowe drove in a pair of runs in a five-run third inning, gave Tampa Bay back-to-back wins for the first time since June 14-16.
The Mariners have failed to gain any momentum as they try to find the elixir that led them to snap a 21-year postseason drought last season
They had Thursday off after dropping two in a row to the lowly Washington Nationals, their third straight series loss.
The Mariners, with a 38-41 record, are 5 1/2 games back in the race for an American League wild-card berth
"I don't know a better way to put it, and that goes for our entire organization," Mariners president of baseball operations Jerry Dipoto said Thursday on his weekly Seattle Sports 710 radio show. "It starts with me, and it runs through every player on the field. They're feeling it. We all are, and we'd like to get out from underneath it.
The low point might have come Tuesday, when Seattle lost 7-4 in 11 innings to Washington after failing to score with no outs and the bases loaded in the bottom of the 10th.
"I wish I had a better answer than we're not doing the things that winning teams do," Dipoto said. "That doesn't just go for the lack of hitting. It's situational execution; it's coming up with a simple ground ball or a fly ball when you need it. It's what the Nationals did on Tuesday. They found a way to generate a run and win the game, and we have failed to do that over and over."
The Mariners are scheduled to send rookie right-hander Bryce Miller (5-3, 3.88 ERA) to the mound Friday. Miller, who will face the Rays for the first time, is coming off a no-decision Saturday in Baltimore in which he allowed three runs on six hits in 4 1/3 innings
--Field Level Media