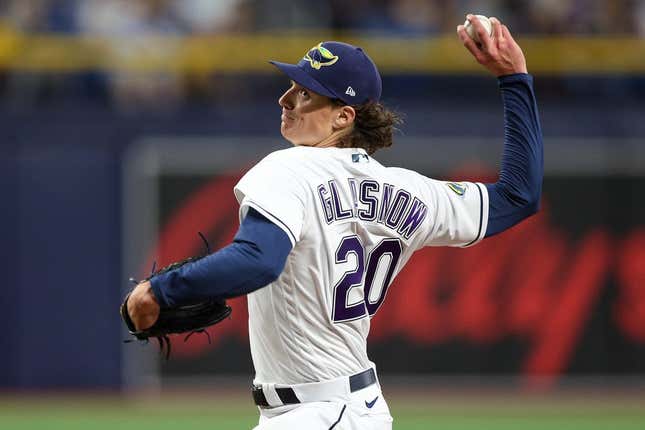 Pitcher Tyler Glasnow plays a role as big as his 6-foot-8 frame for the Tampa Bay Rays and will look to get back on track Sunday afternoon in the series finale against the Kansas City Royals in St. Petersburg, Fla
Is Texas or Florida State a bigger national title contender? | Agree to Disagree
Smarting from his worst start since his delayed season debut due to an oblique injury, Glasnow (2-1, 4.97) will look to help the Rays split their four-game set
His return to dominant form is crucial to the Rays, who lead the American League East by 4 1/2 games over the Baltimore Orioles
And the narrative around Glasnow, who had Tommy John surgery almost exactly two years ago, is not just of another pitcher in the rotation trying to regain his form.
The staff ace and one of the game's most dominant hurlers from 2019 to 2021 when he combined to go 16-4 with a 2.80 ERA, the right-hander has an even larger role with the setbacks that have sidelined two of the five starters that helped the Rays open 2023 on a 13-game winning streak
Jeffrey Springs (Tommy John surgery) is lost for the season, while Drew Rasmussen (elbow flexor strain) is on the 60-day injured list.
So outings like Tuesday's are a bit of a concern. Baltimore roughed Glasnow up for six runs on six hits over 4 1/3 innings.
He struggled primarily for two reasons -- reduced velocity on his fastball and a mediocre breaking ball.
"(I was) definitely off. I don't think there was a lot of consistency there as far as release point," said Glasnow, who watched two off-speed pitches get pounded deep by Aaron Hicks and Anthony Santander. "I was searching while I was out there. I feel strong.
"It'll synch up randomly and, like, I'll throw 99 (mph), then the next pitch is 94, so it's definitely not like an issue of strength or anything."
Glasnow has no wins or losses and has tallied a 2.08 ERA in two career starts covering 13 innings against Kansas City.
On Saturday, the Royals got a boost from the sixth through ninth hitters as his team rallied from a 4-0 deficit through two innings to beat the Rays 9-4
Edward Olivares, Drew Waters, Nicky Lopez and Freddy Fermin went a combined 9-for-14 with three home runs and five RBIs.
With starting catcher Salvador Perez at designated hitter, ninth-place hitter Fermin slotted in behind the plate and went 3-for-3 with a homer, walk, three RBIs and two runs.
"My plan was to look for something in the zone," said Fermin, who ripped a three-run shot in a four-run fourth inning. "I made a good swing and made hard contact, and I thank God for that."
While the offense was dynamic enough to win, the day belonged to pitcher Jordan Lyles (1-11), who won for the first time in 16 starts in his first season in Kansas City.
Royals pitchers retired the final 17 Tampa Bay hitters after the home side scored four runs on six hits in the first two innings
Daniel Lynch (1-3, 4.45) will make his sixth start in the series finale for Kansas City.
The 26-year-old left-hander will be appearing for the first time ever against the Rays
--Field Level Media