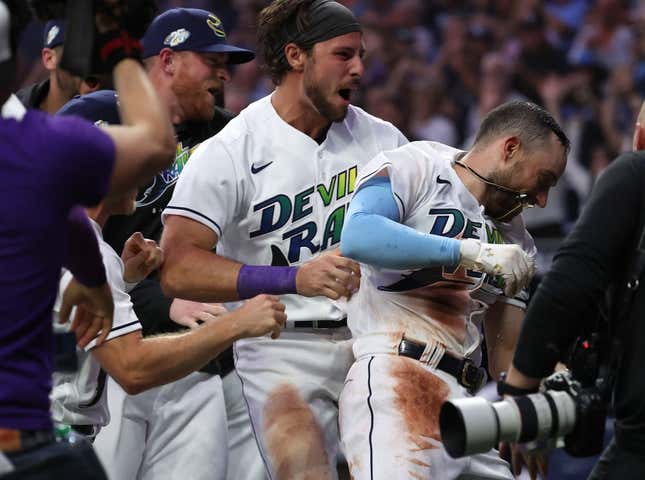 The Tampa Bay Rays can set the major league record for the most consecutive games with a home run when they host the Chicago White Sox on Saturday
Will South Beach Flu give the Heat home court advantage? | Keep it a Buck(et)
The Rays homered for the 20th consecutive game in the series opener on Friday night
Tampa Bay got a two-run homer from Harold Ramirez while taking a 4-0 lead in the first inning, and the Rays rallied in the ninth inning for an 8-7 victory when Christian Bethancourt hit a leadoff homer before Brandon Lowe hit a walk-off, two-run blast
The Rays now share the modern-era homer record (since 1901) with the 2019 Seattle Mariners
Lowe said the homer streak won't be on the mind of the Tampa Bay hitters when they come to the plate on Saturday.
"No one's up there dropping the back shoulder trying to hit a homer," he said. "Everyone is up there rolling out great at-bats, being mature and doing what they're supposed to be doing. Not getting too big for themselves -- just up there trying to pass the baton."
The White Sox have lost seven of their past nine games, and the Rays have won three in a row. The middle game of their three-game series also will feature two of the top starting pitchers in the American League
Left-hander Shane McClanahan (4-0, 1.57 ERA) is scheduled to start for the Rays against the White Sox right-hander Dylan Cease (2-0, 2.01)
Cease finished second in the AL with a 2.20 ERA last season, while McClanahan ended up fifth (2.54).
Both are off to strong starts to this season as well.
McClanahan is one of just three four-game winners in the majors, having earned a victory in each of his starts.
Cease was sharp on Opening Day, posting 10 strikeouts and no walks in 6 1/3 innings of one-run ball against the defending World Series champion Houston Astros on March 30, but he has lost his command in recent outings. He has issued a combined 12 walks in his past three starts, though he fanned 19 in those contests.
Cease took a lead into the sixth inning in his latest start on Sunday against Baltimore, but he sandwiched two walks around a hit and then threw a wild pitch that scored the tying run. He was charged with four runs in six innings, and the Orioles won 8-4.
"I need to adjust a little bit quicker and just see where my misses are," Cease said postgame.
Cease averaged 94.4 mph on his four-seam fastball against the Orioles, which was down 1.1 mph from his average, according to Statcast.
"We'll see where it's at over the next couple of starts," Cease said. "Being cold probably doesn't help, but it's something everyone has to deal with."
Cease is 1-1 with a 2.93 ERA in three career starts against Tampa Bay.
McClanahan settled in after the first three Toronto batters reached base on Sunday and produced a run. He ended up going six innings, allowing that lone run on four hits with six strikeouts and two walks in an 8-1 victory.
"It was one of those things where we've been working all week to get my mechanics right, get my mind right and be the pitcher I know I can be," McClanahan said.
McClanahan has made two starts against the White Sox in his career, going 1-1 with a 3.27 ERA
--Field Level Media