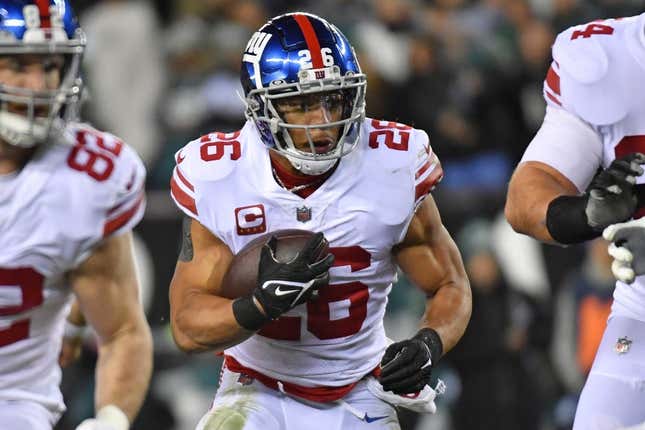 Two-time Pro Bowl running back Saquon Barkley wasn't willing to offer an opinion Sunday about his future with the New York Giants, who have designated him with a franchise tag this offseason.
Is Texas or Florida State a bigger national title contender? | Agree to Disagree
Barkley, who has 4,249 rushing yards, 1,820 receiving yards and 37 total touchdowns over five seasons, has not signed the franchise tag, allowing for the possibility that he does not play this season.
Barkley wants a long-term contract, and the deadline for teams to sign tagged players to longer deals is July 17. He said the idea of skipping the season "comes up in conversation if something doesn't get done" by the deadline.
"At the end of the day, it's all about respect," Barkley said. "That is really what it is."
A more immediate consequence of not being under contract is that Barkley won't be attending the team's mandatory minicamp on Tuesday and Wednesday.
"I think they're open to talking. I'm open to talking," Barkley said. "If you really break it down and look at it as a whole, there is no rush. There is still time on the table to get to July 17. July 17 is not tomorrow. It's not in a week.
"Maybe that is the naive way to look at it, I could be completely wrong. ... Hopefully. I trust in the Giants that we could get something done."
Multiple media outlets reported earlier this year that Barkley, the second overall pick in the 2018 draft, turned down multi-year offers starting at $12.5 million per season during last season, then incrementally higher offers of $13 million and later $13 million plus incentives that could be worth another $1 million.
The New York Daily News has reported that Barkley wants $16 million per season, similar to what 49ers running back Christian McCaffrey earns.
--Field Level Media