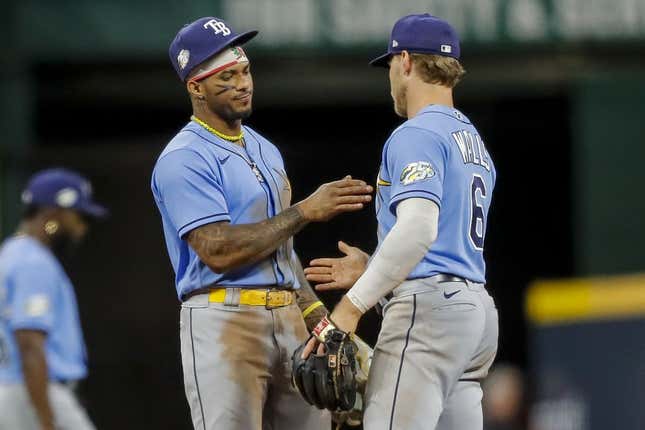 The powerful Tampa Bay Rays will look to continue their assault on the record books and claim another series win when they visit the Cincinnati Reds in the rubber game of a three-game series Wednesday afternoon
Air Jordans are more American than McDonald's French fries | Deon Cole's Ultimate Sports Fantasy
The Rays clubbed four more home runs Tuesday night in a 10-0 rout of the Reds, giving them 41 in the first 18 games of the season. That total is just one shy of the major league record held by the 2000 St. Louis Cardinals at the same point
They have also homered in all 18 games to open the season, two games shy of the modern-era mark held by the 2019 Seattle Mariners.
Leading the way Tuesday was switch-hitting infielder Taylor Walls, who homered from both sides of the plate.
The Rays send right-hander Drew Rasmussen (2-1, 2.60 ERA) to the mound in the series finale. Rasmussen suffered his first loss of the season Friday at Toronto, allowing five runs on eight hits and four walks with four strikeouts. Over 4 1/3 innings. The four walks set a career high and the eight hits allowed were his most since surrendering nine hits in a loss to Minnesota last June
This will be Rasmussen's third career appearance against the Reds, all of them coming in Cincinnati. On Sept. 21, 2020, he gave up two homers and four runs in two-thirds of an inning for Milwaukee. He threw four shutout innings in a start last July 9 with Tampa Bay in a game the Rays lost in 10 innings, 5-4
The Reds will try to rebound with a win in the matinee and finish with a winning homestand, going 3-3 in six games so far against Philadelphia and the Rays. The Reds have alternated blowout wins and losses in their last four games, winning 13-0 and 8-1 on Saturday and Monday and losing 14-3 and 10-0 Sunday and Tuesday
The Reds will turn to a rookie making his major league debut Wednesday as right-hander Levi Stoudt gets the spot start. The Reds called Stoudt up from Triple-A Louisville and added him to their taxi squad on Tuesday to prepare him for Wednesday's debut
The 25-year-old pitcher was one of the four prospects the Reds acquired from the Mariners in the trade last July for rotation ace Luis Castillo
In three starts for Louisville, Stoudt was 0-1 with a 4.09 ERA, nine walks and 10 strikeouts in 11 innings.
"He does know it's a spot start," Reds manager David Bell said. "Great accomplishment for Levi. He's been pitching well. He's a big part of our plans moving forward.
The Reds had planned to start Luke Weaver, who would be coming off the injured list. But with Stoudt going Wednesday, Weaver will now start Thursday at Pittsburgh
Rays manager Kevin Cash confirmed that left-handed starter Jeffrey Springs met with medical officials Tuesday and is headed to the 15-day injured list with a left elbow issue. The 31-year-old pitcher is expected to have Tommy John surgery that will sideline him for the rest of the season and into the 2024 season
"Obviously, he's going on the IL with an elbow issue," Cash said before Tuesday's game. "I think in fairness to Jeff, he's still processing the information that he's gotten. So, I think we're a day or two from him coming up with a decision on what is ideal for him and then a timetable from there."
--Field Level Media