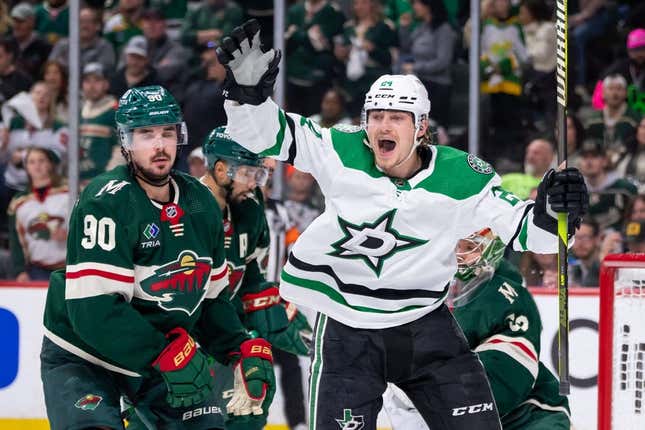 The Dallas Stars will try to finish off their record-breaking Western Conference first-round series when they visit the Minnesota Wild for Game 6 on Friday night in Saint Paul, Minn
Can the Florida Panthers make a comeback? | Agree to Disagree
The Stars have won the past two games to take a 3-2 lead in the best-of-seven series
Roope Hintz has led the way with 11 points (four goals, seven assists), setting a team record for points in a playoff series.
Tyler Seguin has set another team record with four power-play goals in the series, helping the Stars go 9-for-22 with the man-advantage
"We're getting better as the series goes on," Dallas coach Peter DeBoer said. "The last win is always the toughest, but we've got an elimination game in Minnesota. We've been a really good road team all year. I think our guys are excited."
The Wild, meanwhile, have been a ball of frustration during the series, spending too much time in the penalty box and getting just one goal so far from their top two goal scorers during the regular season, Kirill Kaprizov (40) and Matt Boldy (31)
"This is a good opportunity for us to play our best hockey," Wild coach Dean Evason said. "We've had a one-game-at-a-time mentality all year, obviously, so it's one at a time.
Minnesota's physical play hasn't led to positive results so far.
The Wild finished 10th in the NHL on the penalty kill during the regular season (82 percent), but have only killed 13 of 22 power plays by Dallas
"We have to stay out of the box," Evason said. "We would've liked a few more calls. We got a couple of diving calls against them, which was maybe a little bit too late. We think there's some of that going on. We don't want to whine, but there are calls out there."
Two of the penalties in the series led to injuries by Dallas players.
Stars center Radek Faksa missed most of the first period in Game 5 after taking a hit from Marcus Foligno, who received a five-minute major and game misconduct
Dallas forward Joe Pavelski was injured midway through Game 1 on a hit by Wild defenseman Matt Dumba and hasn't played since
Pavelski, who had 77 points (28 goals, 49 assists) while playing all 82 games during the regular season, will be a game-time decision for Game 6.
In his absence, Hintz has stepped up in record fashion.
He's contributed three assists in each of the past two games to surpass Hockey Hall of Famer Mike Modano for the most points in team history in a playoff series.
Seguin needs one more power-play goal to tie Modano's team record for the most in an entire postseason.
"You're always surprised because your memory of those guys, they were such great players," DeBoer said. "That shows you how elite some of the guys we've got on our team are."
Evason hinted at making some lineup changes for Game 6, but it's still the core players who will determine if there's a Game 7 back in Dallas on Sunday or not.
"This is our team," Evason said. "This is our group. We can make a few changes. We've got new people, depth that we've talked about all year that we feel can come in and play, but we believe that they'll get the job done. The guys on the ice will get the job done."
--Field Level Media