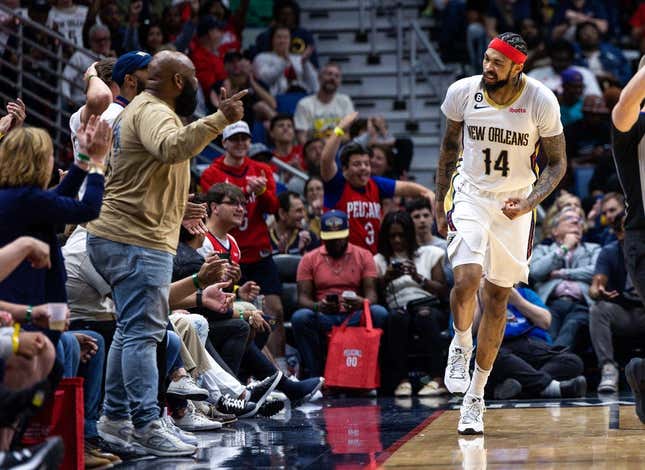 The Sacramento Kings have a firm grip on the No. 3 seed in the Western Conference entering the final week of the regular season
Meanwhile, the eighth-place New Orleans Pelicans have plenty of potential to move up or down with four games left to play, beginning with a home game against the Kings on Tuesday night
But the serious threat of falling out of the 10 postseason spots that loomed over the Pelicans late last month is fading after the Pelicans (40-38) have won seven of their last eight games
"At this time of year the standings change every few minutes," New Orleans coach Willie Green said. "We all pay attention to them. We're human beings. But our focus is on Sacramento and we just have to continue to grow and build from there."
The Pelicans can clinch at least a spot in the play-in tournament with a victory against the Kings. They will enter play Tuesday a half-game behind both the fifth-place Los Angeles Clippers and the sixth-place Golden State Warriors, against whom they would win a head-to-head tiebreaker as of now
The Pelicans' surge has been led by forward Brandon Ingram, who has scored 25-plus points in nine consecutive games. During that nine-game stretch he has had the first two triple-doubles of his career and has averaged 30.3 points, 8.2 assists and 6.0 rebounds; Ingram has been shooting 52.4 percent from the floor, 48.0 percent on 3-pointers and 92.4 percent on free throws
"He's been great at pushing the ball," center Jonas Valanciunas said of Ingram. "Not just scoring and getting to his midrange, but also finding open guys. It's deadly that he's playing that way."
The Kings (47-31) already have clinched their first playoff appearance after a 16-season drought, but coach Mike Brown is concerned about his team's focus as the postseason approaches
"There's a lack of physicality and sense of urgency that you have to bring to the table defensively every single possession," Brown said. "Whether it's allowing a guy to blow by you without touching him, coming off a screen without touching him, getting an offensive rebound without boxing out. Those types of things are what I worry about."
Sacramento is two games behind second-place Memphis and four games ahead of fourth-place Phoenix with four games to play.
The Kings are coming off a 142-134 overtime loss at home Sunday to San Antonio, which has the second-worst record in the West and was playing without multiple rotation players
"This isn't the ideal time to have a bad loss," guard De'Aaron Fox said. "We have to be able to get stops. That's where our season's going to hang."
The loss prevented Sacramento from clinching its first division title in 20 years -- at least temporarily.
"There's four games left," forward Domantas Sabonis said. "We have to sharpen things up."
The Pelicans and the Kings have split two previous meetings this season, both teams winning at home. New Orleans won 136-104 on Feb. 5 and the Kings won 123-108 on March 6
If the Kings wind up as the No. 3 seed, the Pelicans are one of a few teams that could be the No. 6 seed that will face them in the first round of the playoffs
--Field Level Media